KMT caucus calls for probe into diplomat's suicide
The Chinese Nationalist Party (KMT) caucus yesterday called on the Executive Yuan to establish an ad hoc panel to investigate whether it was false news or rather accusations by Taipei Economic and Cultural Representative Office in Japan officials that drove former director-general of the office's Osaka branch Su Chii-cherng (蘇啟誠) to suicide.
Since Su died at his residence on Sept. 14, the Ministry of Foreign Affairs has not shown any interest in investigating the incident, ascribing Su's death to false news about the Chinese consulate in Osaka sending shuttle buses to pick up Taiwanese stranded at Kansai International Airport during Typhoon Jebi on the condition that they identified as Chinese, KMT caucus secretary-general William Tseng (曾銘宗) told a news conference at the Legislative Yuan in Taipei.
The KMT caucus condemns the ministry's passive attitude and demands that the Executive Yuan conduct a three-month investigation into the incident by assembling a panel of members from objective third parties so that Su's reputation can be cleared and he can rest in peace, Tseng said.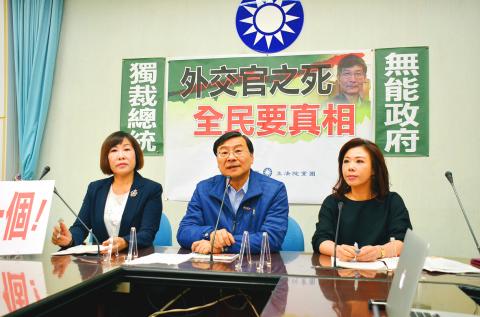 Chinese Nationalist Party (KMT) caucus secretary-general William Tseng, center, and KMT legislators Lu Yu-ling, left, and Lee Yen-hsiu speak at a news conference at the legislature in Taipei yesterday.
Photo: Huang Hsin-po, Taipei Times
KMT Legislator Lu Yu-ling (呂玉玲) said the legislature should establish a review panel to find out whether the ministry had shielded anyone and whether Su had died a wrongful death.
Lu said that the ministry had told her that Taiwan-Japan Relations Association Secretary-General Chang Shu-ling (張淑玲) telephoned Su on its behalf a day before his death, during which she allegedly scolded Su for 20 minutes.
Chang yesterday denied making such a call.
The ministry should clear up the confusion, Lu said.
Citing a statement that Representative to Japan Frank Hsieh (謝長廷) issued on Friday in response to accusations by Su's widow that "anticipated humiliation," not false news, drove him to take his own life, KMT Legislator Lee Yen-hsiu (李彥秀) criticized Hsieh for confronting Su's family with a report by Japanese public broadcaster NHK that partly attributed Su's suicide to him "being overwhelmed by public criticism."
The move shows that Hsieh is still trying to shirk responsibility by blaming Su's death on false news, Lee said.
She called on Hsieh to return to Taipei for a meeting of the legislature's Foreign Affairs and National Defense Committee tomorrow to give a clear account of the events.
Comments will be moderated. Keep comments relevant to the article. Remarks containing abusive and obscene language, personal attacks of any kind or promotion will be removed and the user banned. Final decision will be at the discretion of the Taipei Times.