TRA to establish assets development center for revenue
The Taiwan Railways Administration (TRA) yesterday said that it is to establish an assets development center to help generate revenue for the debt-ridden agency.
The agency manages approximately 5,393 hectares of land valued at more than NT$836.2 billion (US$27.1 billion), it told a ministerial meeting.
However, of that area, only about 262 hectares can be used for real-estate development, the agency said.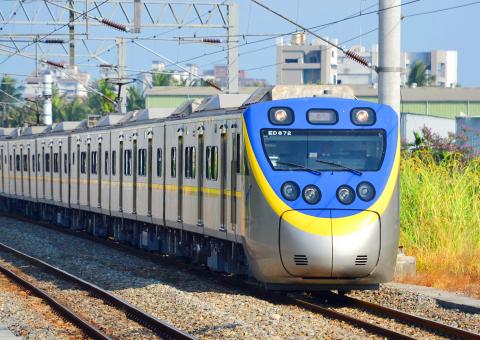 A Taiwan Railways Administration locomotive travels through Pingtung County yesterday.
Photo: Hou Cheng-hsu, Taipei Times
Asset development has become a main source of revenue over the past few years, including developing TRA property under renovate-operate-transfer or build-operate-transfer models, entrusting a third party to develop the property or leasing the property to businesses, it said.
In 2013, revenue from asset development was about NT$2.13 billion, while last year it was NT$3.44 billion, the agency said.
Revenue from asset development is expected to reach NT$3.88 billion this year, it said.
It has two business models to develop its properties, the agency said. The first is to attract investors to develop train stations and surrounding properties, and the second is to use its properties for real-estate development.
Examples of the first category include the development of stations in New Taipei City's Banciao District (板橋), Taipei's Nangang (南港), Songshan (松山) and Wanhua (萬華) districts, and Zuoying District (左營) in Kaohsiung, it said.
In the second category, the agency would retain superficies rights, but let developers lease them, or it would launch urban renewal projects in cities, keeping ownership of the land or transferring it to a stakeholder, it said.
The asset development center would be an independent institution of the TRA and would be governed by special statutes, it said.
This would help the TRA manage its properties more flexibly and extricate it from the bondage of red tape, it said.
Proposed property developments for next year require the agency to launch urban renewal projects or change land use purposes, the TRA said, citing plans for its properties north of MRT Kunyang Station in Taipei.
Comments will be moderated. Keep comments relevant to the article. Remarks containing abusive and obscene language, personal attacks of any kind or promotion will be removed and the user banned. Final decision will be at the discretion of the Taipei Times.