Civil groups urge top members of the CEC to resign
A coalition of civil groups yesterday accused the Central Election Commission (CEC) of interfering with referendum proposals and called on all members of the executive committee to step down.
"I had hoped that the amendments would break the birdcage, but then I found there were still many ways the commission could interfere with a proposal," Aletheia University Department of Law associate professor Wu Ching-chin (吳景欽) told a news conference in Taipei, referring to amendments to the Referendum Act (公民投票法) passed last year that significantly lowered the threshold for initiating referendums and abolished an Executive Yuan referendum review committee.
The law had been known as a "birdcage act" due to many previous restrictions that had made it nearly impossible to initiate or pass a referendum.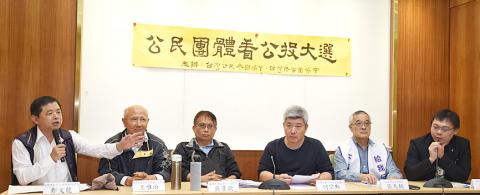 Taiwan Citizen Participation Association chairman Ho Tsung-hsun, center right, together with other guests attends a meeting in Taipei yesterday to discuss several controversial issues about the weekend's referendums.
Photo: Liu Hsin-de, Taipei Times
A referendum question he submitted to the commission in April asking the government to return surplus tax revenue to members of the public was rejected on the grounds that the word "surplus" is suggestive and that questions related to taxes are banned by law, Wu said.
He told the commission that "surplus tax revenue" was the same term used by the Ministry of Finance and that the government has been using it for 40 years, but his opinion was ignored, he said.
The commission also did not offer any explanation as to why it would contravene the law to ask questions related to taxes, he said.
"My referendum question did not concern increasing or cutting taxes, or even government budgets. It would only require the government to pass legislation that clarifies where the surplus comes from and where it should go," Wu said.
Meanwhile, Nuclear Myth Busters founder Huang Shih-hsiu (黃士修), who initiated a referendum to scrap the government's plan to phase out nuclear power that passed on Saturday, accused to the commission of trying to "oppress certain proposals."
While Huang's proposal asked: "Do you agree that Subparagraph 1, Article 95 of the Electricity Act, which reads: 'Nuclear-energy-based power-generating facilities shall wholly stop running by 2025,' should be abolished?" the commission had initially required him to remove the phrase describing the content of the cited law, saying it would prevent it from being objective or neutral, he said.
"They simply did not want voters to immediately understand that the question was about the 'nuclear-free homeland by 2025' policy," Huang said.
The commission was unfair in its handling of referendum proposals and its members are unqualified to remain in their posts, Taiwan Citizen Participation Association director-general Ho Tsung-hsun (何宗勳) said.
"All members of its executive committee should step down. Simply having the commission chairman step down is not enough to appease the public's anger," Ho said.
Comments will be moderated. Keep comments relevant to the article. Remarks containing abusive and obscene language, personal attacks of any kind or promotion will be removed and the user banned. Final decision will be at the discretion of the Taipei Times.