NPP wins boost status as third-largest party
CAPITAL GAINS: Legislator Freddy Lim had support from Ko Wen-je and saw three of the party's five Taipei candidates win councilor seats in Saturday's elections
The New Power Party (NPP) won 16 seats in Saturday's city and county councilor elections, the biggest winner among minor parties and boosting its status as the third-largest party.
The NPP, which nominated 40 councilor candidates in 17 cities and counties, saw 40 percent of its candidates elected, gaining seats in Taipei, Taoyuan, Tainan, Kaohsiung, Keelung, Changhua County, Yunlin County, Miaoli County, Hsinchu City and Hsinchu County.
Founded in 2015 by civil activists associated with the 2014 Sunflower movement, the NPP became the third-largest party in 2016 after securing five seats in the Legislative Yuan. Saturday's councilor elections were the first the party has participated in and its success was an indication of its growing influence.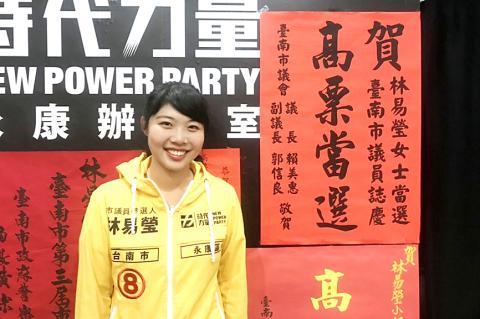 Yongkang District councilor-elect Lin Yi-ying of the New Power Party stands beside a sign congratulating her in Tainan yesterday.
Photo: CNA
The party had its greatest successes in Taipei and Hsinchu City, where it won three seats in each.
In Taipei, Legislator Freddy Lim (林昶佐) — who is also head of the party's Taipei chapter — led a series of campaigns targeting supporters of Taipei Mayor Ko Wen-je (柯文哲) and had Ko as a guest at some events. In the nine-in-one elections, three of its five candidates won: Lin Liang-chun (林亮君), Lin Ying-meng (林穎孟) and Huang Yu-fen (黃郁芬).
However, in New Taipei City, where NPP Executive Chairman Huang Kuo-chang (黃國昌) led campaigning, all six of its candidates lost, including former star swimmer Tang Sheng-chieh (唐聖捷).
"Despite having limited resources, the candidates worked hard to research policies and plan their platforms. They did their best to lobby for support by visiting every neighborhood and speaking to people on the streets," the NPP said in a statement yesterday.
"This was the first time the party took part in local elections. There is still room for improvement and we need to work harder," it said, thanking supporters for giving its candidates a chance.
Two other minor parties bettered their previous performances.
The Social Democratic Party (SDP) nominated five candidates in Taipei, and while only Miao Po-ya (苗博雅) was elected, it was its first win in a local council since the party was founded in 2015.
That Miao could win a seat in Daan (大安) and Wenshan (文山) — districts typically dominated by conservatives — despite her unwavering stance on judicial reform and gender equality, shows that "voters can support a candidate with a resolute political stance" on such issues, SDP Convener Fan Yun (范雲) said on Saturday evening.
Meanwhile, the Green Party Taiwan won three seats, the most since its founding in 1996. Three of its 10 candidates were elected, including party convener and Taoyuan City Councilor Wang Hao-yu (王浩宇), who was seeking re-election.
"With limited resources, the party opted for a campaign style that was environmental and non-intrusive, giving short talks on streets and getting around on bikes," Wang said, adding that most of its candidates lost due to their lack of wealth and political connections.
Other minor parties that won seats included the Taiwan Solidarity Union, the Republican Party and the Labor Party, winning five, three and two seats respectively, while the People First Party won eight and the New Party won two seats.
Comments will be moderated. Keep comments relevant to the article. Remarks containing abusive and obscene language, personal attacks of any kind or promotion will be removed and the user banned. Final decision will be at the discretion of the Taipei Times.