2018 ELECTIONS: Only one referendum legally binding
Except for one, the 10 referendums held yesterday would be little more than a NT$1.5 billion (US$48.54 million) survey, as nine would not be legally binding on the government if they passed, attorney Lu Chiou-yuan (呂秋遠) said on Friday.
"If they pass, the government would consider them. If they fail to pass, that would not mean the government would not consider them," he posted on Facebook.
The exception is Referendum No. 16, which asks people about overturning the policy to phase out nuclear energy by 2025, because it asks whether voters agree to abrogate Article 95-1 of the Electricity Act (電業法), meaning the article would be nullified if the plebiscite is passed, he wrote.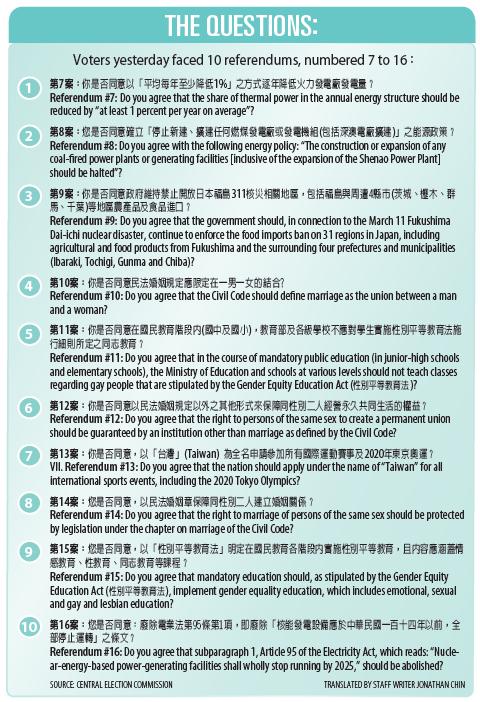 GRAPHIC: TT
The other nine would not impose any legal liability on the government if it refused to act on the results, as that would only cost it political credibility, he wrote.
"Therefore, make your choices wisely and tell the government what you think, but do not be overly worried, all they amount to is a NT$1.5 billion survey," he wrote.
Yet "even with their high cost, I think they are priceless," he wrote. "At least we get to express our opinions and engage in discussions with our family, friends and even strangers before making decisions."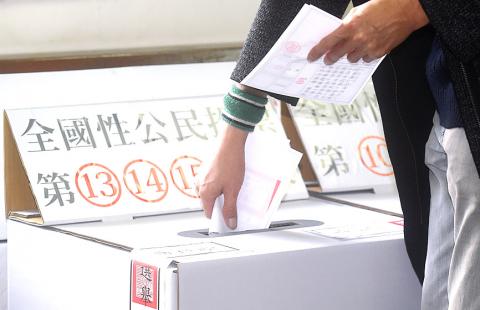 A voter places referendum ballots in a ballot box at a voting station in Taipei yesterday.
Photo: Liao Chen-huei, Taipei Times
"This is the best thing anyone could ask for in the making of a sensible citizen," he wrote.
The referendums, which he described as "a general IQ test" and survey, would also reflect people's values and way of thinking when faced with controversial issues, Lu wrote, adding that independent thinking is the most significant aspect of a referendum.
Comments will be moderated. Keep comments relevant to the article. Remarks containing abusive and obscene language, personal attacks of any kind or promotion will be removed and the user banned. Final decision will be at the discretion of the Taipei Times.