2018 ELECTIONS: From north to south, candidates plan evening rallies
Democratic Progressive Party (DPP) New Taipei City mayoral candidate Su Tseng-chang (蘇貞昌) and his Chinese Nationalist Party (KMT) rival, Hou You-yi (侯友宜), are to stage their final rallies of the election in Banciao District (板橋) tonight.
Su is to host separate rallies in the city's Sanchong (三重) and Banciao districts, with the one in Banciao to be the main event.
President Tsai Ing-wen (蔡英文), who is also DPP chairperson, and Premier William Lai (賴清德) are expected to attend the Banciao rally.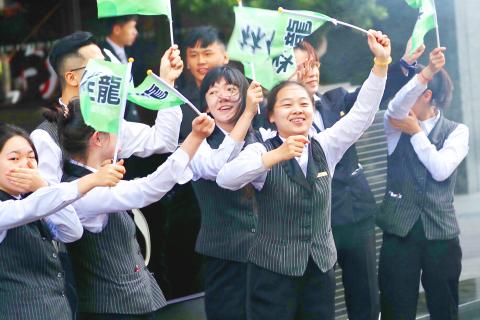 Supporters of Taichung Mayor Lin Chia-lung, who is seeking re-election, wave as he passes in Taichung yesterday.
Photo: CNA
New Taipei City Mayor Eric Chu (朱立倫) of the KMT is expected to join Hou in Banciao.
Hou said that while he is aware that Su is inviting key politicians to his rally, he would bring together the city's residents, calling them his "A-listers."
Taoyuan Mayor Cheng Wen-tsan's (鄭文燦) campaign is to host rallies in front of his campaign headquarters in the city's Jhongli (中壢) and Taoyuan (桃園) districts.
The Jhongli event is to take place from 6:15pm to 9pm, while the Taoyuan District event is to run from 7pm to 10pm.
Cheng is to report on his achievements as mayor over the past four years in the final 30 minutes of each event.
A number of performers and bands are to participate in both rallies, Taoyuan District campaign office head Chen Ching-hang (陳靜航) said.
KMT Legislator Apollo Chen (陳學聖), who is running against Cheng, is to campaign throughout the city today before making his way to his Jhongli campaign office for a final rally at 6pm.
Taichung Mayor Lin Chia-lung (林佳龍) has chosen to return to Wen Hsin Forest Park (文心森林公園) for his election-eve rally, after he rallied at the park before his win in 2014.
Lin's KMT challenger, Lu Shiow-yen (盧秀燕), is to host her rally in an open field next to the Tiger City mall.
Sources have confirmed that former president Ma Ying-jeou (馬英九), former Taichung mayor Jason Hu (胡志強) and Chu are to be at Lu's rally.
Ma is also expected to attend KMT Tainan mayoral candidate Kao Su-po's (高思博) election-eve rally at the Flower Night Market, while DPP candidate Huang Wei-che (黃偉哲) is live streaming his campaign for 36 consecutive hours, from 10am yesterday to 10pm today.
Comments will be moderated. Keep comments relevant to the article. Remarks containing abusive and obscene language, personal attacks of any kind or promotion will be removed and the user banned. Final decision will be at the discretion of the Taipei Times.