2018 ELECTIONS: KMT, DPP gear up for final campaigns
LAST CALL: While the KMT called on people frustrated with the DPP administration to vote for change, the DPP said that a vote for the party is a vote for democracy
The Chinese Nationalist Party (KMT) yesterday said it is holding evening campaign rallies for its mayoral candidates in the six special municipalities on election eve, while the Democratic Progressive Party (DPP) touted its interactive live streaming of campaign rallies staged by 20 mayoral and commissioner candidates across the nation.
The central theme of the KMT campaign is "The night to victory," with each event having its own subtheme, KMT spokesman Hung Meng-kai (洪孟楷) told a news conference in Taipei.
In Taipei, the KMT has gained the city government's approval to stage a rally for its mayoral candidate, Ting Shou-chung (丁守中), called "Vote to save Taiwan: Ting Shou-chung's night to victory" on Ketagalan Boulevard, Hung said.
Chinese Nationalist Party (KMT) New Taipei City mayoral candidate Hou You-yi, right, greets supporters as he campaigns in Sindian District yesterday.
Photo: CNA
In New Taipei City, KMT mayoral candidate Hou You-yi (侯友宜) is to hold his "Justice awakens, safeguard NTC [New Taipei City]" rally at the Banciao Stadium, while in Taoyuan, Apollo Chen (陳學聖) is to host his rally next to his campaign headquarters, Hung said.
The "Taichung cannot wait. Take action on Nov. 24" event in support of KMT mayoral candidate Lu Shiow-yen (盧秀燕) is to be held on a plot of land next to the city's Tiger City shopping mall, while the "Win Tainan, win Taiwan" event is to be staged next to the city's Garden Night Market, he said.
The rally for KMT Kaohsiung mayoral candidate Han Kuo-yu (韓國瑜) is titled "Make Kaohsiung the richest city in Taiwan and a first-rate city in the world," and is to be held on a plot of land in the Taiwan Sugar Logistics Park next to the Dream Mall, he said.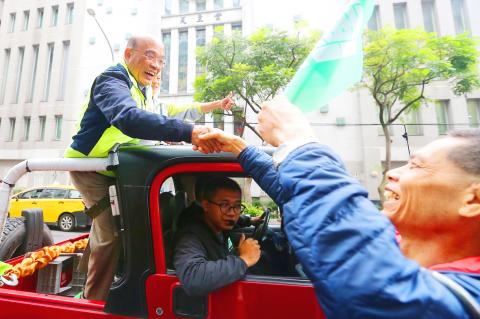 Democratic Progressive Party New Taipei City mayoral candidate Su Tseng-chang, left, shakes a supporter's hand while campaigning in Yonghe District yesterday.
Photo: CNA
Each event is to be broadcast live by TVBS from 7pm to 10pm, he said, adding that the broadcast is to show all six events in one frame, to allow viewers to follow them all at once, and switch back and forth between the events to ensure that they will all be given due emphasis, he said.
KMT Chairman Wu Den-yih (吳敦義) is scheduled to make an appearance at the opening of Ting's rally, before heading to Hsinchu to stump for the party's Hsinchu commissioner candidate, Yang Wen-ke (楊文科), and then to Taoyuan to drum up support for Chen, he said.
No KMT heavyweight is to appear at Han's rally at the request of the candidate, who believes this would bring him closer to the public, Hung said, adding that KMT headquarters respects his decision.
The KMT urged those who are frustrated with the DPP administration's performance to vote for the KMT to "turn Taiwan around."
Meanwhile, the DPP is to join some Internet celebrities in holding a six-hour live stream on its Facebook page and on YouTube.
The live stream would include a question-and-answer session of election rules people should look out for, as well as its campaign rallies nationwide, the DPP said.
The online celebrities invited to host the program would join viewers in reviewing the DPP's governance and achievements through a question-and-answer session, the DPP said.
DPP Secretary-General Hung Yao-fu (洪耀福) called on the party's supporters to take part in campaign rallies in their city or county to express their support for the candidates and solidarity with fellow supporters.
Rain or shine, everyone who believes in the nation's democracy should come out to vote for the DPP, Hung Yao-fu said.
Only by doing so could they see a positive change in their hometowns, he said.
Comments will be moderated. Keep comments relevant to the article. Remarks containing abusive and obscene language, personal attacks of any kind or promotion will be removed and the user banned. Final decision will be at the discretion of the Taipei Times.