Doctors caution against taking unprescribed herbs
Doctors in Chiayi County on Monday warned against using medicinal herbs without a prescription, after a woman who ingested wolfsbane ended up in Dalin Tzu Chi General Hospital's intensive care unit.
The woman, surnamed Chang (張), 61, had told her children to buy herbs from an apothecary for her muscle aches without seeing a doctor or a licensed Chinese medicine practitioner, said Lee Yi-ta (李易達), a cardiologist who treated her.
Chang felt some pain relief after taking the medicine that afternoon, then took another dose in the evening, Lee said.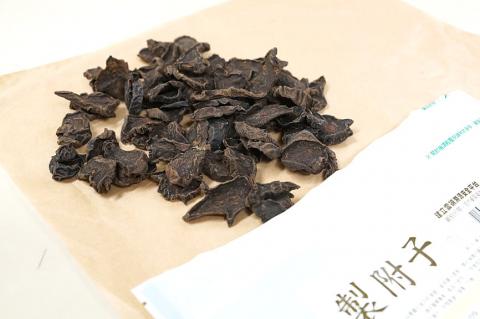 A sample of aconite, or wolfsbane, a plant that has medicinal properties, but is also highly toxic, is pictured in an undated photograph.
Photo courtesy of Dalin Tzu Chi General Hospital
About one hour later, she was taken to hospital by her family after she began vomiting and experiencing heart palpitations, he said.
Lee said an electrocardiography showed that Chang had frequent atrial arrhythmia induced by aconite poisoning and she was immediately admitted to intensive care, where her condition was stabilized with medication.
Wolfsbane contains toxic levels of aconite and the hospital had recently treated another person who ingested it after his friend told him it could help with diabetes, Lee said.
Wolfsbane — which contains several dangerous alkaloids — is deemed to have medicinal properties in traditional Chinese medicine, said Liang Yu-chang (梁育彰), head of the hospital's Pharmacology Department.
However, the tubers must be boiled for at least one hour before the toxins are neutralized to a safe level for human consumption, he said.
People should not experiment with herbs without consulting a licensed Chinese medicine doctor, Lee said.
Comments will be moderated. Keep comments relevant to the article. Remarks containing abusive and obscene language, personal attacks of any kind or promotion will be removed and the user banned. Final decision will be at the discretion of the Taipei Times.