ELECTIONS: Lawyers, students sign to support nuclear-free land
BY 2025: As of yesterday morning, 121 lawyers, 46 law academics and more than 100 law students and law practitioners had signed to keep the president's policy
More than 280 law practitioners yesterday launched a petition against a referendum to scrap the policy for a nuclear-free homeland by 2025, a gesture echoing another petition organized last week by more than 500 academics.
The referendum, initiated by Nuclear Myth Busters founder Huang Shih-hsiu (黃士修), asks if people agree to abolish Article 95-1 of the Electricity Act (電業法), which stipulates that all nuclear power generation facilities should stop operations by 2025.
It is one of 10 referendums to be held alongside the nine-in-one local elections on Saturday.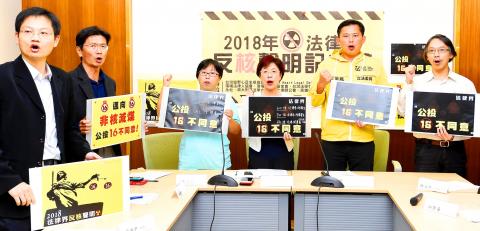 Democratic Progressive Party Legislator Yu Mei-nu, third right, New Power Party Executive Chairman Huang Kuo-chang, second right, and other anti-nuclear campaigners clench their fists at a news conference in Taipei yesterday.
Photo: Chu Pei-hsiung, Taipei Times
As of yesterday morning, the petition had gathered 283 signatures from 121 lawyers, 46 law academics and more than 100 law students and law practitioners, the Wild at Heart Legal Defense Association said.
The 2002 Basic Environment Act (環境基本法) stipulates that the government must propose plans to make Taiwan nuclear-free, but the 2025 timeframe was last year written into the Electricity Act, association lawyer Tsai Ya-yin (蔡雅瀅) said, adding that no delay should be allowed.
New Power Party Executive Chairman Huang Kuo-chang (黃國昌); Democratic Progressive Party lawmakers Yu Mei-nu (尤美女) and Chou Chun-mi (周春米); as well as members of the Environmental Rights Foundation, the Taiwan Law Society and National Taiwan University's Policy and Law Center for Environmental Sustainability also signed the petition.
Huang, who on Friday last week represented opponents in a televised debate with referendum advocate Liao Yen-peng (廖彥朋), said that voters should first answer the question: Where should nuclear waste — especially highly radioactive waste — be stored?
Scientists raised the question more than four decades ago when more nuclear power plants were being constructed, but even the groups trusted by nuclear power supporters — Taiwan Power Co (Taipower) and the Atomic Energy Council — have yet to propose any waste disposal solutions, he said.
Even if the referendum is passed, the Fourth Nuclear Power Plant in New Taipei City's Gongliao District (貢寮), which was again mothballed in 2015 before construction was complete, could not be immediately started, Huang added.
According to council regulations, a proposal to update a nuclear power generator's operating permit should be filed five to 15 years before the permit expires, Environmental Jurists Association chairman Chang Yu-yin (張譽尹) said.
Of the nation's six nuclear power generators at three operating plants, only the permits for the two units at Pingtung County's Ma-anshan Nuclear Power Plant could be extended within the given timeframe, as they expire on July 26, 2024, and May 17, 2025, Chang said, adding that it was too late to extend the permits for New Taipei City's Jinshan plant in Shihmen District (石門) and the Guosheng plant in Wanli District (萬里).
Comments will be moderated. Keep comments relevant to the article. Remarks containing abusive and obscene language, personal attacks of any kind or promotion will be removed and the user banned. Final decision will be at the discretion of the Taipei Times.