New US House equally friendly toward Taiwan
DEMOCRAT-CONTROLLED: US Democrats are talking about blocking Trump's policies, but should remain warm toward Taiwan, the deputy minister of foreign affairs said
A Democrat-controlled US House of Representatives following the US' midterm elections would not affect the Taiwan-friendly sentiment of the US Congress, Deputy Minister of Foreign Affairs Kelly Hsieh (謝武樵) said yesterday.
The US Democratic Party took control of the House in the midterm elections last week, dealing a blow to US President Donald Trump, as the Democratic majority in the lower chamber, the first in eight years, would be in a position to restrict his ability to steer policies through Congress, foreign media reports said.
Meanwhile, the US Republican Party consolidated its grip on the US Senate, ensuring that Trump can still make key appointments, the reports said.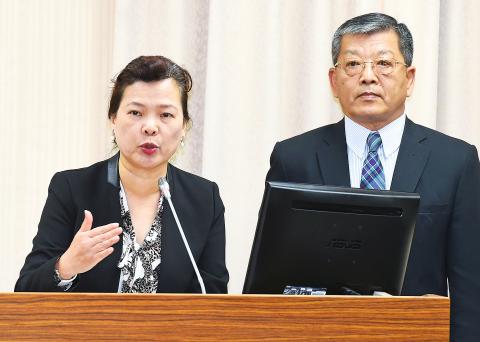 Vice Minister of Economic Affairs Wang Mei-hua, left, and Deputy Minister of Foreign Affairs Kelly Hsieh answer lawmakers' questions yesterday at a meeting of the Foreign Affairs and National Defense Committee at the Legislative Yuan in Taipei.
Photo: Chu Pei-hsiung, Taipei Times
Asked whether a Democratic majority in the House could affect warming Taiwan-US ties, Hsieh said during a question-and-answer session at a meeting of the Legislative Yuan's Foreign Affairs and National Defense Committee that he does not share such concerns.
Democrats and Republicans in Congress have shown strong support for Taiwan and the midterm results would not affect the US' overall positive attitude toward Taiwan, Hsieh said.
US House Democratic leader Nancy Pelosi, who is poised to become speaker again, has long been considered a hardliner toward Beijing, Hsieh added.
The Democrats are talking about more checks and balances on Trump's policies, but such attempts are more likely to focus on domestic policy, including his tougher stance on immigration, rather than on policy toward Taiwan, Hsieh said.
Asked how the intensifying US-China trade dispute could affect Taiwanese companies based in China, Vice Minister of Economic Affairs Wang Mei-hua (王美花) said the ministry does not expect the trade spat to end any time soon.
That is why an increasing number of Taiwanese companies that use China as a manufacturing base are considering returning to Taiwan, Wang added.
The government is doing its best to provide better incentives, including ensuring easier access to labor and land, and stable supplies of electricity and water, to companies thinking of returning to Taiwan, she added.
Hsieh and Wang made the comments following briefings in the Legislative Yuan that respectively detailed the government's evaluation of the impact of the US midterm elections and the effect of the US-China trade dispute on Taiwan.
Comments will be moderated. Keep comments relevant to the article. Remarks containing abusive and obscene language, personal attacks of any kind or promotion will be removed and the user banned. Final decision will be at the discretion of the Taipei Times.