Antibiotic resistance to UTI rises: researchers
FIVE PERCENT RISE: Urologist Chiang Yi-de said the main reasons for the increase in Taiwan were loose regulations, low prices and people buying drugs without instructions
Antibiotic resistance in the nation has increased in the past decade, medical researchers said yesterday, citing their study of people with urinary tract infections (UTIs), which showed a 5 percent rise.
Researchers from Taipei Medical University, Shuang Ho Hospital in New Taipei City's Jhonghe District (中和) and Kobe University in Japan studied how antibiotic resistance varies in different places.
The research team presented its results at the Sixth Regional Asian Clinical Trial Forum at Taipei Medical University.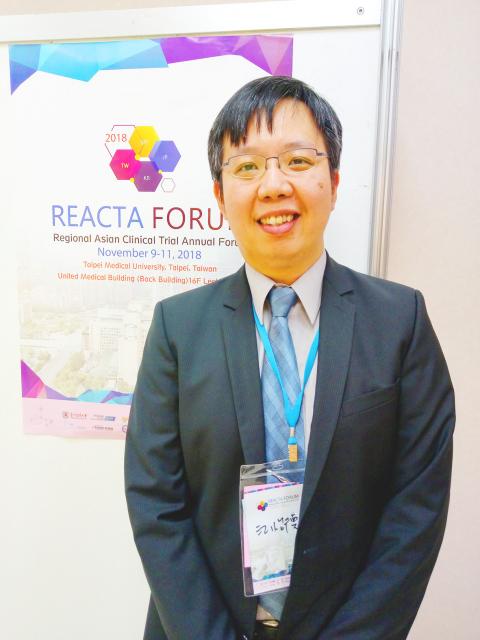 Shuang Ho Hospital urologist Chiang Yi-de poses for a picture at the Sixth Regional Asian Clinical Trial Forum at Taipei Medical University in Taipei yesterday.
Photo: Wu Liang-yi, Taipei Times
Shuang Ho Hospital urologist Chiang Yi-de (江怡德), the paper's lead author, said that data were collected from about 21,000 people with UTIs who were treated at the hospital from 2015 to last year.
The data showed that 15 to 25 percent of the patients developed resistance to the antibiotics commonly used to treat UTIs, about 5 percent higher than the rate 10 years earlier, Chiang said.
Kobe University associate professor Katsumi Shigemura said he studied data from 3,500 people in Japan with UTIs from 2015 to last year.
Antibiotic resistance among them was between 10 and 20 percent, also an increase from earlier studies, he said.
The main reason for the increase is misuse and overuse of antibiotics, the researchers said.
The bacterium that developed resistance to drugs most quickly in Taiwan was Escherichia coli, while in Japan it was Klebsiella pneumoniae, Chiang said.
Both are common and usually harmless bacteria in the intestinal tract, but they can be dangerous if they are transferred to other parts of the body and become resistant to antibiotics.
The main reasons behind the rise in antibiotic resistance in Taiwan are loose regulations for antibiotics by the government and hospitals, low prices for antibiotics and people buying antibiotics at pharmacies without getting instructions on their proper use, Chiang said.
Many people think that they can stop taking a drug once the symptoms are relieved, but that allows the surviving bacteria to pass on their resistance to antibiotics, so the drug loses its effectiveness, Chiang said, adding that such infections become more serious if the bacteria also develop resistance to second-line drugs.
Chiang said that people with UTIs should seek medical treatment at clinics or hospitals, where they would get a proper evaluation and treatment, rather than by purchasing antibiotics from a pharmacy.
Comments will be moderated. Keep comments relevant to the article. Remarks containing abusive and obscene language, personal attacks of any kind or promotion will be removed and the user banned. Final decision will be at the discretion of the Taipei Times.