New Southbound Policy: Local firms given branding support
GLOBAL AUDIENCE: The government is helping local firms develop brands so that they can take on bigger and well-established rivals in southbound markets
With the announcement of the New Southbound Policy more than two years ago, the government signaled its dedication to helping Taiwanese businesses expand beyond the Greater China market. Whether they were already moving south or aspired to do so, companies have begun to see the results of this promise.
The figures alone evidence the policy's success: From January to August, trade with the 18 targeted nations rose 5.5 percent from a year earlier, according to the Executive Yuan's Office of Trade Negotiations.
However, the successes go beyond the bottom line — a key facet of the policy is its focus on long-term development and efforts to "forge a sense of economic community," and government agencies have responded with an array of resources to achieve these goals.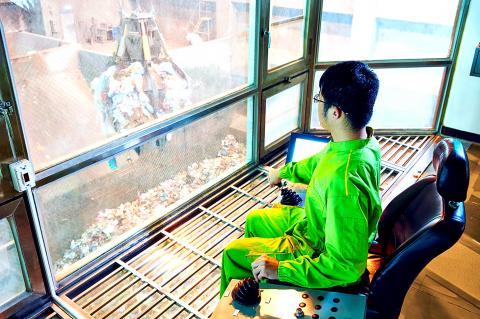 An ECOVE Environment Corp employee works at an energy-from-waste plant in an undated photograph.
Photo courtesy of ECOVE Environment Corp
As a sector that combines people-to-people exchanges with economic cooperation — two of the policy's main strategies — the service industry has a central role to play in its success, but it faces an array of challenges.
Most Taiwanese businesses are small to medium-sized enterprises that face stiff competition in markets dominated by large companies that control business channels and have well-developed branding, said Lien Yung-chih (連勇智), a former director-general of the Commerce Development Research Institute's Marketing and Consumer Behavior Research Division, in an interview with International Community Radio Taipei (ICRT).
To address these challenges, organizations and agencies are offering branding and networking services to companies looking to operate abroad.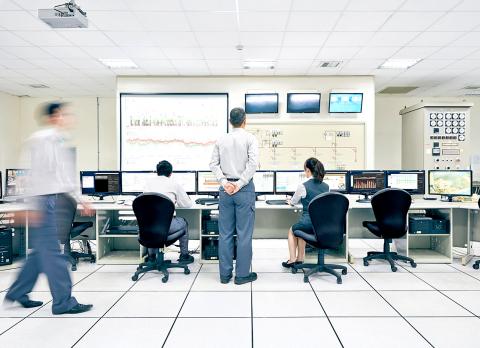 ECOVE Environment Corp employees operate an energy-from-waste plant in an undated photograph.
Photo courtesy of ECOVE Environment Corp
One such program, the second-phase "Branding Taiwan" campaign by the Ministry of Economic Affairs' Industrial Development Bureau, collaborates with the institute and other groups to help outward-looking companies develop brands that could better appeal to global audiences.
Since 2016, it has prioritized companies that are looking southward or are in a "five plus two" sector, according to its calls for submissions.
The "five plus two" industries refer to the development of an "Asian Silicon Valley," smart machinery, green energy technology, biomedicine and national defense, as well as new agricultural business models and a circular economy.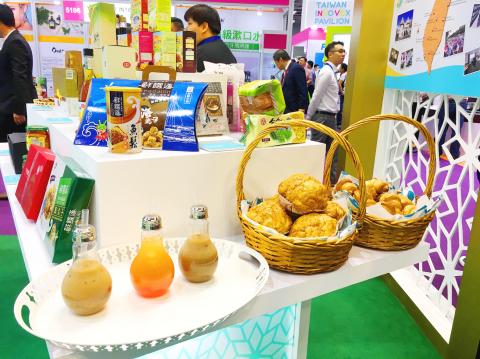 Taiwan-made halal food products are shown at the Taiwan Expo held by the Taiwan External Trade Development Council in Kuala Lumpur, Malaysia, on Nov. 9 last year.
Photo: Huang Pei-chun, Taipei Times
Few companies fit these criteria better than ECOVE Environment Corp (崑鼎), which used to be known as KD Holding Corp.
A subsidiary of global engineering services provider CTCI (中鼎集團), the environmental services provider has since 1999 become one of Taiwan's leaders in developing a circular economy, focusing on energy from waste (EfW), waste management, resource recovery and solar power.
ECOVE operates seven EfW and two industrial and special waste treatment plants in Taiwan, and two EfW and one industrial and special waste treatment plant in Macau, in addition to offering consulting services in China, but it is also looking to expand its EfW business into southbound countries.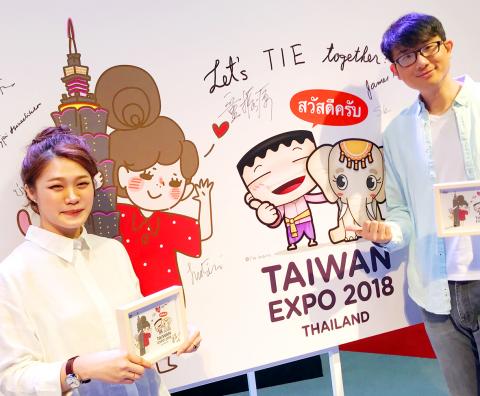 Taiwanese illustrator Mark Lee, right, and Thai illustrator Trai are pictured at the opening of the Taiwan Expo 2018 in Thailand held in Bangkok by the Taiwan External Trade Development Council between Aug. 30 and Sept. 1 this year.
Photo: Lo Chien-yi, Taipei Times
"ECOVE has continuously followed EfW business development progress closely and has kept seeking EfW business opportunities in New Southbound countries," the company's sales department said.
It bid for the Singapore No. 6 EfW project and is involved in an EfW project in Kuala Lumpur, in addition to the consultation and technical services it provided for some small waste incinerators in Malaysia, Vietnam and India.
However, "awareness is still not enough [in the] global market. In order to expand international business, we decided to launch the ECOVE brand and renew [the] official Web site, uniform and service cars with the new corporate identity," ECOVE chairman J.J. Liao (廖俊喆) told a news conference last year.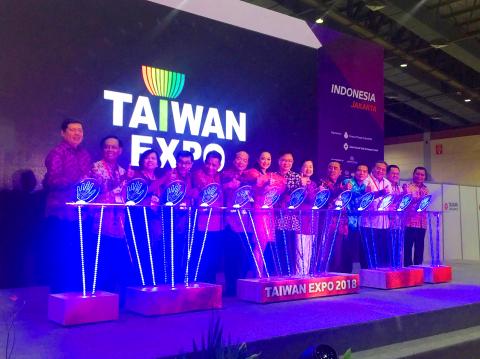 Guests take part in the opening of the Taiwan Expo 2018 in Indonesia held in Jakarta by the Taiwan External Trade Development Council on March 30 this year.
Photo: Lin Ching-hua, Taipei Times
In collaboration with the Branding Taiwan campaign, the company developed a comprehensive rebranding strategy.
"ECOVE has more opportunities for brand strategy conduction and brand promotion, which is beneficial for ECOVE to build international channels and the expansion of brand business overseas," the sales department said.
Moreover, when a company attends an event overseas, the local Taiwanese mission or trade office always holds a news conference to increase the company's exposure, it added.
Another barrier to entry into overseas markets, as mentioned by Lien, is the difficulty of entering markets as a small enterprise.
Each of the southbound markets is immense and can be daunting to a firm that is not familiar with local rules and business cultures.
One of the policy's core functions is to "define Taiwan's role in regional development," establishing the nation as "an innovator, a sharer and a provider of services."
As part of this effort, the government has proposed a budget of NT$1 billion (US$32.49 million) for the ministry's Taiwan External Trade Development Council (TAITRA) next year to continue its work promoting business-to-business exchanges, organizing trade shows, establishing southbound company networking associations and helping businesses navigate overseas markets.
One of TAITRA's primary offerings is the Taiwan Expo, which brings the nation's services and products to southbound nations to showcase Taiwanese excellence and facilitate face-to-face exchanges.
Through its collection of the best of Taiwanese industry in one place and its pavilions showcasing key innovations, the expo helps market the nation as an active partner in the region.
At the Taiwan Expo in Vietnam from July 26 to July 28, 190 exhibitors participated, drawing 26,000 visitors for total potential business of US$98 million, TAITRA said in its post-show report.
Of the visitors, 99 percent said they liked the quality of the products and services exhibited, while 94 percent of exhibitors were satisfied with the business result, it added.
One of the segments showcased was the Taiwan Bubble Tea Pavilion, which included Chen En Food Product Enterprise Co (承恩食品企業), a comprehensive bubble tea business services provider that helps aspirants start a drink shop, from menu planning and material procurement, to business strategizing.
Chen En already does business in Singapore, Malaysia, the Philippines, Indonesia, Vietnam and other countries, but aims to become the exclusive agency that cooperates with bubble tea businesses in the region, marketing director Vincent Liu (柳聖恩) said.
The firm has received subsidies from TAITRA to participate in overseas exhibitions, as well as information about southbound policies and markets, and invitations to speak abroad, he said.
The pavilion, which also featured in the Taiwan Expo in Indonesia from March 29 to March 31, introduced the TAITRA Bubble Tea Marketing Alliance certification to verify products' authenticity as a Taiwanese product, as well as the slogan "Taiwan Bubble Tea, Bubble Up Your Life" to bolster the drink's identification as a Taiwanese product, a news release on TAITRA's Taiwantrade Web site said.
"Taiwan promotes bubble tea as a way of food diplomacy, which also enhances bubble tea's international image," it added.
Also present at the Taiwan Expos in India, Vietnam, Thailand and Malaysia this year was ECOVE, which joined the Taiwan Green Product Pavilion.
The expos help to strengthen Taiwan's image as a nation of talent and opportunity, as well as its unique culture it wishes to share with the world.
As ECOVE is eyeing larger EfW projects in southbound nations, it is hoping to receive more government help to secure these public-private partnership tenders.
The government has allocated NT$500 million for official development assistance loans to targeted nations next year to aid Taiwanese companies wishing to secure larger projects overseas.
While not directly subsidizing businesses, the program has the potential to help make Taiwanese businesses more attractive to foreign governments as they bid for projects.
Last year, Taiwan secured 17 public projects in southbound nations, with a combined bidding price of US$25.2 billion, and in just the first seven months of this year won 20 more projects worth US$25 billion, the Taipei Times reported.
In only two years, the immediate benefits enjoyed by businesses are apparent, but as the policy matures, it is the longer-term benefits that will have the greatest effect.
Taiwan's repositioning as a talented partner to ASEAN, South Asian countries, Australia and New Zealand would continue to grow collaborations and ensure that Taiwan comes to mind first as a valued partner.
Comments will be moderated. Keep comments relevant to the article. Remarks containing abusive and obscene language, personal attacks of any kind or promotion will be removed and the user banned. Final decision will be at the discretion of the Taipei Times.