Second arms deal with US likely before year's end
The US should approve another round of arms sales to Taiwan by the end of the year, following a US$330 million deal last month, US-Taiwan Business Council president Rupert Hammond-Chambers said.
"It's reasonable to argue that there will be another congressional notification before the end of this year," Hammond-Chambers said at a news conference before the opening of the US-Taiwan Defense Industry Conference in Annapolis, Maryland, on Sunday.
He declined to speculate on what arms the US would make available, saying only that the value of the package would be significant.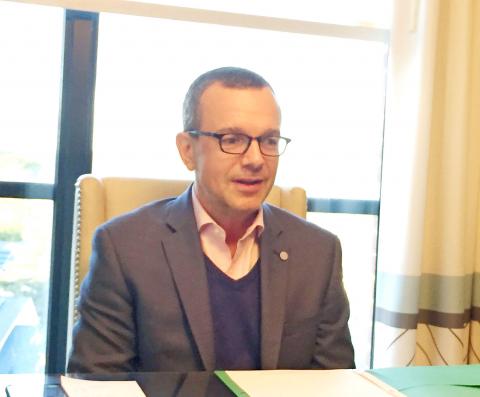 US-Taiwan Business Council president Rupert Hammond-Chambers speaks in Annapolis, Maryland, on Sunday.
Photo: CNA
On Sept. 24, the US Defense Security Cooperation Agency announced a proposed arms sale that included standard spare parts and other maintenance supplies for Taiwan's F-16s, C-130s, F-5s, Indigenous Defense Fighters and other aircraft.
The deal announced last month was the second of its kind since US President Donald Trump took office after a US$1.4 billion deal in June last year.
Hammond-Chambers said he would like to see the US State Department's and China's influence on US arms sales to Taiwan.
The conference, which ends today, is the 17th installment in a series of annual meetings to address the future of US defense cooperation with Taiwan, the procurement process and national defense and security needs.
The discussions this year are focused on Taiwan's role in the US' Indo-Pacific strategy, how the nation can increase regional engagement on defense and security issues, and how it can continue to develop its capabilities to meet existing and future defense needs, the council said.
The Taiwanese delegation to the conference is led by Deputy Minister of Defense General Chang Guan-chung (張冠群), who prior to his departure told the Legislative Yuan that the delegation would apprise Washington of the nation's defense needs at the three-day conference.
Comments will be moderated. Keep comments relevant to the article. Remarks containing abusive and obscene language, personal attacks of any kind or promotion will be removed and the user banned. Final decision will be at the discretion of the Taipei Times.