Hsinchu City signs memo to facilitate smart city program
The Hsinchu City Government has signed an agreement with National Chiao Tung University and the National Center for High-Performance Computing to facilitate the municipality's smart city program.
The memorandum on public data cooperation and application was signed by Hsinchu Deputy Mayor Shen Hui-hung (沈慧虹), university president Frank Chang (張懋中) and center director-general Shieh Ce-kuen in a ceremony at city hall on Monday.
The agreement marks the first time a public institution took the helm of a smart city project, city officials said.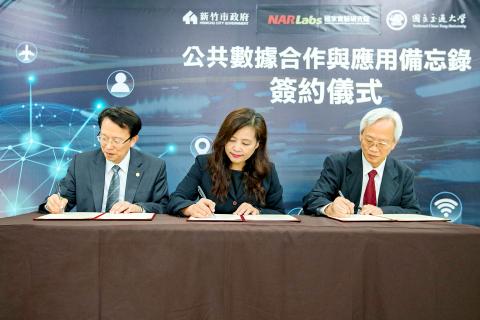 From left, National Chiao Tung University president Frank Chang, Hsinchu Deputy Mayor Shen Hui-hung and National Center for High-Performance Computing director-general Shieh Ce-kuen sign an agreement at a ceremony at Hsinchu City Hall on Monday.
Photo: Hung Mei-hsiu, Taipei Times
A smart campus project the university initiated three years ago has gathered data that were crucial in breakthroughs in computer vision, data analysis and artificial intelligence, Chang said, adding that the collaboration would offer the benefit of scale.
Data collection and analysis can improve urban planning and smart services by providing knowledge of the spatial distribution of population and activities, transport utilization rates and living conditions in a city, he said.
The center has raw data on many cities and counties, but lacks firsthand knowledge of public officials that it needs to contextualize the data, Shieh said.
The city government's help represents a milestone in the center's work, he said, adding that the center looks forward to collaborating with more local governments to integrate artificial intelligence and big data in governance.
Hsinchu Mayor Lin Chih-chien (林智堅) intends to establish a data policy center to integrate data from the city, manage standardized smart street lights and install infrastructure for a citywide application of the Internet of Things, Shen said.
The municipality is planning to unveil a digital citizenship policy that would link a digitized ID system with mobile pay, city services, shared rides and smart transportation systems, she added.
Comments will be moderated. Keep comments relevant to the article. Remarks containing abusive and obscene language, personal attacks of any kind or promotion will be removed and the user banned. Final decision will be at the discretion of the Taipei Times.