Submarine blueprints due by March: minister
Minister of National Defense Yen De-fa (嚴德發) yesterday told lawmakers that the nation's "Indigenous Defense Submarine" (IDS) program is on track.
The government has set a deadline of March 1 next year for contractor Gavron Ltd, a consultancy based in the British overseas territory of Gibraltar, to submit blueprints for the program's first phase, Yen said.
Two other key people in charge of the program — Republic of China Navy Commander Admiral Huang Shu-kuang (黃曙光) and Taiwan Shipbuilding Corp (TSBC) chairman Cheng Wen-lon (鄭文隆) — yesterday accompanied Yen to the Legislative Yuan's National Defense Committee.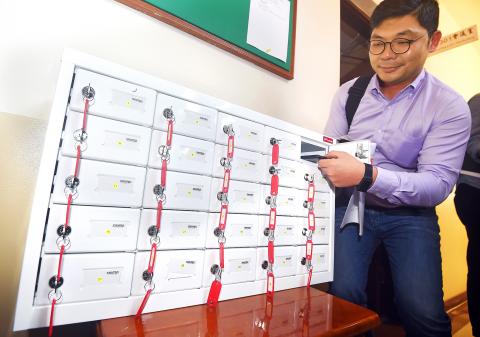 A member of the Legislative Yuan's Foreign Affairs and National Defense Committee yesterday places his mobile phone into a new special phone locker outside the committee meeting room to ensure secrecy given the confidential nature of the discussions about the 'Indigenous Defense Submarine' program.
Photo: Liao Chen-huei, Taipei Times
Huang was appointed as convener of the "IDS taskforce," while semi-state owned TSBC was chosen as the main contractor to build a fleet of eight new submarines domestically, with the first vessel to be completed by 2025, reportedly for total budget of NT$500 billion (US$16.13 billion at the current exchange rate).
Yen reiterated that the government and military are fully committed to the program, after some lawmakers suggested other options, such as foreign procurement of submarines equipped with the latest technology and weapons systems.
"Even if the US and other countries were willing to sell us submarines, we would still push through with the IDS program," Yen said. "We must rely on ourselves and not depend on foreign countries. Taiwan has the industrial capability and technological know-how to make it happen."
The navy's submarines are nearing retirement age, Yen said, adding that he was confident TSBC and other Taiwanese naval contractors could successfully bring the program to completion.
The projects could help enhance Taiwan's expertise and participants would gain experience that they could use to build new warships, submarines and advanced naval weapons, he added.
Lawmakers said they had reports that top Taiwanese officials had over the past month visited Europe and signed a memorandum of understanding with Gavron.
The memorandum requires that Gavron obtain export licenses from the UK government to certify that it is allowed to export military technology, submarine design and construction know-how, and British naval weapons to Taiwan, the lawmakers said.
Yen said Gavron was asked to submit blueprints first.
"We will scrutinize all aspects to ensure full oversight and risk management for this first phase," he said. "After verification and approval, we will proceed to detailed design planning and then domestic construction of the submarines."
Chinese Nationalist Party (KMT) Legislator Johnny Chiang (江啟臣) demanded assurances from officials that the process would not be mired in financial impropriety and corruption scandals.
"The Republic of China Navy does not have a good track record," Chiang said. "There have been many financial scandals and this must not happen to the IDS program."
Chiang mentioned the probe into corruption surrounding Ching Fu Shipbuilding (慶富造船), which last year defaulted while working on a NT$35.85 billion contract to build six minesweepers for the navy, and the Lafayette frigate scandal in the 1990s, in which arms dealer Andrew Wang (汪傳浦) reportedly pocketed US$500 million in commissions and illicit profiteering on a NT$2.8 billion contract to procure six French navy vessels.
"I can tell you, no intermediaries and no arms dealers who could pocket commissions are involved in the IDS program," Yen said. "We are dealing directly with the original design company and original manufacturers."
Lawmakers continued to question the integrity of the tender process, the professional competence of Gavron Ltd and the firm's ability to obtain export licenses from the UK government.
However, much of the session was conducted behind closed doors between lawmakers, and a handful of top defense and IDS officials.
Comments will be moderated. Keep comments relevant to the article. Remarks containing abusive and obscene language, personal attacks of any kind or promotion will be removed and the user banned. Final decision will be at the discretion of the Taipei Times.