Art contest helps kids communicate
OVERCOMING AUTISM: The Yu-Cheng Social Welfare Foundation has held the contest since 2009, showing art by children who face developmental challenges
Two teenagers with autism from a family in Kaohsiung have won first and second prize in a painting contest for children with intellectual and developmental disabilities held by the Yu-Cheng Social Welfare Foundation.
Lin Chia-hung (林家弘) and his sister Lin Ting-hsuan (林庭萱) were both born with autism.
During art therapy, their mother discovered that Lin Chia-hung was artistically talented and while teaching him to paint, she found that her daughter had the same gift, the mother said on Sunday.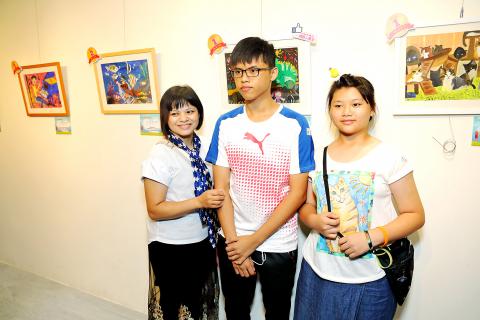 Lin Chia-hung, center, and his sister Lin Ting-hsuan, right, both born with autism, pose with their mother for photographs in front of their winning paintings at the Yu-Cheng Social Welfare Foundation in Kaohsiung on Oct. 13.
Photo courtesy of the Yu-Cheng Social Welfare Foundation
Since elementary school, Lin Chia-hung has participated in several art contests and won many, she said, adding that learning to paint has given him a way to express his emotions through art and build confidence.
Lin Chia-hung's painting Underwater Cleaner (海底清潔員) won the second prize in the painting contest, while Lin Ting-hsuan's Animal Protector (動物保護人員) won first prize. It was Lin Ting-hsuan's first time participating in an art contest.
Junior-high school student Hsu Chia-chih (許佳琪), who was encouraged by her mother to pick up painting as a way to overcome her difficulties communicating, won an honorable mention for her painting A Fantastic Journey (琪幻之旅).
Hsu began painting more than a year ago and began formal training in April.
Her mother said she noticed significant improvement in her daughter's ability to communicate verbally since she began painting.
The foundation has asked Hsu Chia-chih to act as a tour guide for the exhibition.
The paintings are on display at the Taipei City Youth Development Office's gallery until the end of the month.
The foundation has hosted the contest annually since 2009 and has since exhibited more than 5,000 paintings.
Comments will be moderated. Keep comments relevant to the article. Remarks containing abusive and obscene language, personal attacks of any kind or promotion will be removed and the user banned. Final decision will be at the discretion of the Taipei Times.