Taipei candidates sign Yangmingshan water vow
Three Taipei mayoral candidates promised to demarcate the city's Yangmingshan National Park (陽明山國家公園) as a water-quality protection area if elected, but Taipei Mayor Ko Wen-je (柯文哲), who is seeking re-election, has declined, the Taiwan Water Resources Protection Union said yesterday.
At the union's request, Chinese Nationalist Party (KMT) candidate Ting Shou-chung (丁守中), Democratic Progressive Party (DPP) candidate Pasuya Yao (姚文智) and independent candidate Lee Si-kuen (李錫錕) signed a letter of intent, while independent candidate Wu E-yang (吳萼洋) had not yet responded, the union told a news conference.
Water samples collected from four purification plants in Shilin District (士林), which includes parts of the park, show elevated readings of nine substances, including chloride salt, sulfates and nitrate nitrogen, Tsaoshan Ecology, Culture and History Alliance president Wen Hai-chen (文海珍) said, citing a survey by the Taipei Water Department from September last year to August.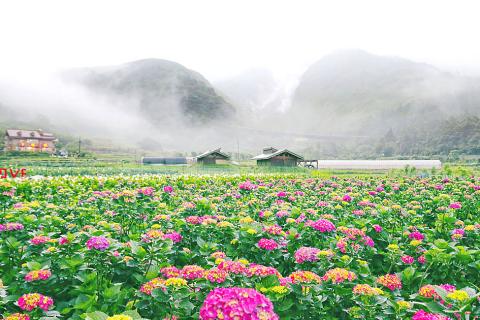 Clouds descend over lily fields in Yangmingshan National Park on May 27 last year.
Photo: CNA
Taipei's water supply mainly comes from the Feitsui Reservoir (翡翠水庫) in New Taipei City's Shiding District (石碇), with development restricted in its catchment area, but the catchment areas of Yangmingshan and Neishuangsi (內雙溪) in Shilin, which supply about 2.5 percent of Taipei's water, are not protected, union convener Chen Jiau-hua (陳椒華) said.
According to Article 11 of the Water Supply Act (自來水法), activities such as logging, mining and raising poultry for profit, as well as pollution-producing factories, garbage incinerators and golf courses, are banned within a water-quality protection area, Chen said, adding that the rights of Yangmingshan residents would not be affected, as they do not conduct such activities.
Ko's campaign office spokesperson Lin Kun-feng (林昆鋒) said the Taipei administration was committed to protecting water quality, but said signing a letter does not equate to taking responsibility for a policy.
There are certainly some "commercial activities" in the Yangmingshan area, but the readings might be caused by the area's volcanic geology, Lin said.
Yangmingshan National Park covers about 11,000 hectares, and making it a water quality protection area would further limit local people's activities, Lin said, adding that the city government needs to collect more opinions from residents.
Comments will be moderated. Keep comments relevant to the article. Remarks containing abusive and obscene language, personal attacks of any kind or promotion will be removed and the user banned. Final decision will be at the discretion of the Taipei Times.