Train Derailment: Sports team and wedding guests among casualties
Students, teachers and wedding guests were among those killed in the derailment of Puyuma Express No. 6432 on Sunday.
The eastbound train derailed at 4:50pm near the Sinma (新馬) Train Station in Yilan County with 366 passengers onboard, the Taiwan Railways Administration (TRA) said.
It was carrying a group of 20 students from Taitung's Peinan Junior High School's judo and baseball teams, as well as their principal, Yu Shu-chu (游數珠), three teachers and a tour guide, Chu Yung-chao (朱永照).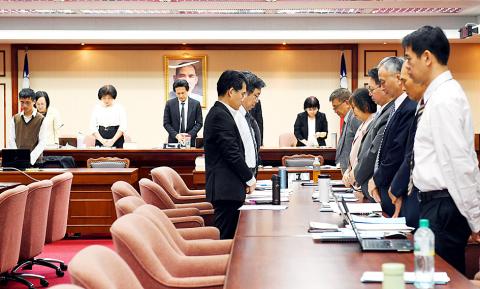 Democratic Progressive Party Legislator Lin Chun-hsien, fourth left, rear, at a meeting of the Transportation Committee in the Legislative Yuan in Taipei yesterday leads a minute of silence for those killed in the derailment of Puyuma Express No. 6432.
Photo: CNA
They had departed for an event in South Korea on Wednesday last week and were returning from the trip when the derailment happened.
Eight of them were sitting in car No. 8, where a government spokesperson said most of the deaths occurred.
Two teachers — Chang Chia-ying (張加穎) and Lee Shih-han (李詩涵) — and three students — Chen Jui-chieh (陳睿杰), Chen Yu-chen (陳宥臻) and Chiang Weng Man-wen (姜翁曼文) — were killed.
Wang Yu-fei (王羽飛), a student, was severely injured and was hospitalized.
Chu, who was missing immediately after the train derailed, was also killed.
Chu's friends and family had held out hope that he was still alive because they were receiving read receipts from his smartphone.
However, they later learned that a stranger had picked up the phone.
Eight out of 11 members of a family surnamed Tung (董) who were returning from a wedding were also killed.
They included Taitung restaurant owner Tung Chin-hsing (董進興), his wife, Wang Lu-yun (王綠雲), his twin brother, Tung Chin-fa (董進發), sister Tung Yu-lan (董玉蘭), brother-in-law Ho Fa-jen (何發仁), grandchildren Tung Chia-hui (董佳惠) and Tung Yi-liang (董益良), and niece Ho Ching-yen (何青晏).
The group had left Taitung on Friday last week to attend the wedding of Tung Chin-hsing's daughter on Saturday along with six friends, Tung Chin-hsing's younger brother, Tung Chin-tsai (董進財), told reporters yesterday.
The train was also carrying about 30 alumni from Taitung's Rui-yuan Junior High School's fifth graduating class.
They were returning from a two-day, 43rd class reunion in Yilan County and were all seated in car No. 6.
President Tsai Ing-wen (蔡英文) yesterday visited family members of those killed who were at the Suao branch of Taipei Veterans General Hospital.
The derailment was the TRA's worst incident in 27 years.
Additional reporting by Wang Hsiu-ting and Chang Yi-chen
Comments will be moderated. Keep comments relevant to the article. Remarks containing abusive and obscene language, personal attacks of any kind or promotion will be removed and the user banned. Final decision will be at the discretion of the Taipei Times.