Watercolorist accuses ex-assistant of copying work
WATERCOLOR FLAP: Yang En-sheng said that he shed blood and sweat for art, and someone sacrificed their life, only to have an 'unsuccessful assistant' claim it as her own
Watercolor artist Yang En-sheng (楊恩生) on Sunday accused Chinese painter Liu Xiaoqing (劉筱青) of plagiarizing his work.
Yang, 62, gained recognition after what was then the Directorate-General of Posts, which later became Chunghwa Post Co, in 1991 commissioned him to paint a series of nature-themed stamps.
The stamps, which featured birds, set a sales record, generating about NT$800 million (US$25.82 million at the current exchange rate).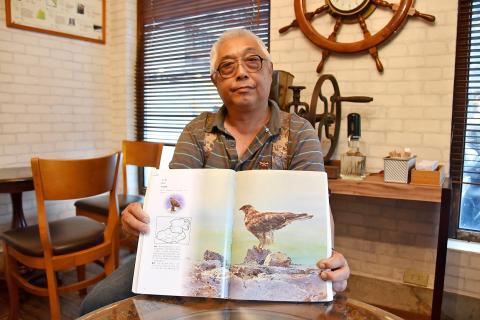 Watercolor artist Yang En-sheng in Taipei on Sunday holds a painting that he says was plagiarized by Chinese painter Liu Xiaoqing.
Photo: Wu Po-hsuen, Taipei Times
He was invited to visit China to draw birds of the Tibetan Plateau, he said, adding that drawings of birds at Qinghai Lake in Qinghai Province were included in two books published by the Taipei Eco-Art Association.
At the time, Liu was a recent art graduate from Qinghai Normal University, Yang said, adding that she was hired to participate in the project, but she drew from photographs and did not travel to dangerous regions.
In 1992, Yang and 12 others, including bird experts from the Chinese Academy of Sciences and other institutions, visited the heads of the Yangtze River to create paintings for a stamp series.
However, the hike included steep sections and one of the guides died, while Yang was hospitalized for three days with lung inflammation.
Yang said he suspects that Liu might have secretly scanned his paintings and has over the past few years begun passing them off as her own.
The works she claims to have created include drawings of brown dippers (Cinclus pallasii) that are endemic to Taiwan, Yang said, calling the alleged behavior "intolerable."
Several of the works that Liu has made published, including paintings of ospreys, wallcreepers and upland buzzards, are his early work, Yang said.
Liu not only used techniques such as cropping and color-scale changes, but also covered his signatures on paintings of a tawny fish owl and a kiang — a wild ass — and others, replacing them with her own, he said.
Yang said he only recently found out through a student about Liu's alleged plagiarism.
There are many introductions of Liu on the Internet, as well as several news reports praising her and describing her as the "best bird painter in China," Yang said.
However, she is only an unsuccessful assistant he hired when he went to China, he said, adding that he shed blood and sweat for art, and someone sacrificed their life.
Subtropical Eco-Art Association executive secretary Tang Min-yi (唐敏亦), a student of Yang, said that many of the bird paintings Liu claims as her own have color bleeding identical to that in Yang's work.
Color bleeding is a technique that produces unique effects, Tang said.
From this observation alone, it is clear that Liu stole Yang's work, Tang said.
Su Chen-ming (蘇振明), who taught in the University of Taipei's Department of Visual Arts, said there are concepts of imitation, forgery and others, and there can be educational purposes to imitations or adaptations in new pieces.
However, the person must credit the source of the original painting and sign their name to indicate that they are responsible, Su said.
Yang said that after his near-death experience, he began to study the souls of animals and contemplate the meaning of environmentalism.
He has committed himself to environmentalism, he said.
No artist in China has yet been able to produce ecological paintings of high quality, but Taiwan has had educational success in the field, he said.
When he returned to Taiwan from the US 12 years ago, National Taiwan Normal University wanted to promote ecological art, so he created workshops and courses, he said.
He is to continue creating ecological art to preserve the "disappearing faces of these precious species," Yang said.
Comments will be moderated. Keep comments relevant to the article. Remarks containing abusive and obscene language, personal attacks of any kind or promotion will be removed and the user banned. Final decision will be at the discretion of the Taipei Times.