Two KMT politicians facing jail
GRAFT: Former KMT legislator Chung Shao-ho was given more than seven years for taking a bribe to ensure that a gas trading company received special port permissions
The Supreme Court yesterday convicted two prominent Chinese Nationalist Party (KMT) politicians of graft and corruption, and sentenced them to prison.
Former Nantou County commissioner Lee Chao-ching (李朝卿) faces 30 years in jail after the court upheld an earlier guilty ruling that he breached provisions of the Anti-Corruption Act (貪污治罪條例) and the Government Procurement Act (政府採購法).
Lee, 68, was elected Nantou County commissioner in 2005 and won re-election in 2009.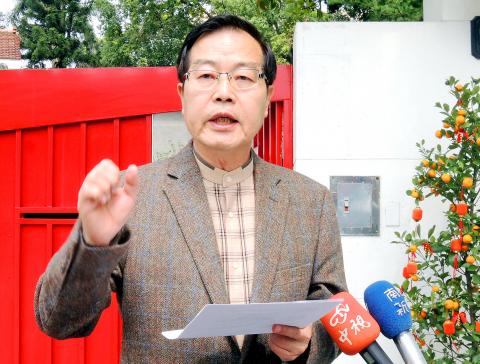 Former Nantou County commissioner Lee Chao-ching speaks to reporters in the county on Feb. 2, 2015.
Photo: Hsieh Chieh-yu, Taipei Times
Investigators found that Lee had received bribes and kickbacks totaling NT$9.49 million (US$306,376 at the current exchange rate).
The court sent 103 other corruption charges against Lee back to the Taiwan High Court for a retrial, leaving open the possibility of further convictions.
The judges imposed a 14-year prison term for one conviction and a 12-year term for each of the other seven convictions for a total of 98 years.
They agreed to prosecutors' request to combine punishment, meaning that Lee would have to serve at most 30 years, the maximum time permitted for concurrent sentences.
"I am very surprised at this verdict. The justice system did not give me a fair chance to explain... I will discuss with my lawyers to decide my next move," Lee said.
The court also upheld a conviction against former KMT legislator Chung Shao-ho (鍾紹和) for taking bribes from and applying political pressure on behalf of a marine shipping business.
He was handed a term of seven-and-a-half years, his illicit gains are to be confiscated and he is to be deprived of his civil rights for five years.
Investigators found that Chung, 62, in April 2011 had taken a NT$3 million bribe to approve a business project at Kaohsiung Port.
The money was paid by Tung Hsin-yao (董欣耀), head of the Taiwanese subsidiary of Singapore-based Winson Group, the probe found.
The subsidiary, which is engaged in petroleum trading and oil tanker transportation, applied for a license to transfer petroleum between ships at the port, but the application was not initially approved.
Tung paid Chung to expedite the application process, which required reviews by the Environmental Protection Administration (EPA) and the Ministry of Transportation and Communications, the investigation found.
Chung in subsequent months requested meetings with the EPA and other ministries, as license approval and petroleum industry review falls under the Ministry of Foreign Affairs.
Chung discussed the issue with officials and initiated amendments to the Petroleum Administration Act (石油管理法) to expand its jurisdiction to include offshore waters, which would facilitate approval of the license, investigators said, adding that Chung then pushed the amendment through a legislative committee.
Except for 2000 to 2007, when he represented the People First Party, Chung spent most of his political career with the KMT.
The verdicts were final and notices are to be sent to Lee and Chung to begin their terms.
Comments will be moderated. Keep comments relevant to the article. Remarks containing abusive and obscene language, personal attacks of any kind or promotion will be removed and the user banned. Final decision will be at the discretion of the Taipei Times.