Fourth arrest in brutal murder
FLYING EAGLE: Police said they identified the US man by his tattoo, which another suspect remembered from when he allegedly saw him at the scene of the crime
New Taipei City police yesterday arrested a US citizen in Yonghe District (永和) as the fourth suspect in a brutal murder and dismemberment case, after he reportedly helped destroy evidence.
The man surnamed Hobbie, 46, has been in Taiwan for eight years, police said.
He is married to a Taiwanese woman and has two kids, they said, adding that he works as an English-language teacher at a cram school.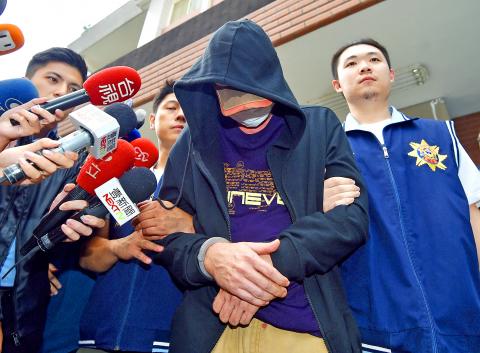 A US citizen surnamed Hobbie is escorted by police officers in New Taipei City's Yonghe District yesterday.
Photo: Chien Jung-fong, Taipei Times
The suspect has a "flying eagle" tattoo on his upper back that was allegedly done by Oren Shlomo Mayer, an Israeli-American tattoo artist and former cram school teacher who is a prime suspect in the Aug. 21 murder of Canadian Sanjay Ryan Ramgahan, police said.
"We believe [Hobbie] went to the crime scene to provide 2 liters of gasoline for the other suspects," Yonghe Police Precinct Investigation Division Director Lin Chen-jui (林振瑞) said.
Police intend to indict Hobbie as accessory to murder, Lin said, adding that Hobbie was allegedly instructed to buy gasoline and fireworks, and then helped burn the bloodied clothing of the other two suspects.
"The murder was pre-planned and involved several suspects, who divided their work," Lin said.
However, Hobbie during questioning yesterday denied taking part in the killing.
Investigators said that Hobbie admitted going to the crime scene on Aug. 21, but said that it was because Mayer had asked him to buy gasoline and fireworks.
He told police that he went to the meeting place to hand over the gasoline, then set off some fireworks and left, police said.
Hobbie said he did not know what happened after he left and denied having witnessed or participated in the killing, they added.
Lin said police were able to identify Hobbie by the tattoo on his back after searching Mayer's customer records.
Police said that Odane Ewart Bent, another US suspect in the case who investigators believe carried out the murder with Mayer, during questioning told of another man who was present that night.
Bent said he did not know the man, who Mayer called "JJ," and could only remember he had an eagle tattoo on his back.
Police asked prosecutors to apply for a travel restriction against Hobbie to prevent him from fleeing the country.
Comments will be moderated. Keep comments relevant to the article. Remarks containing abusive and obscene language, personal attacks of any kind or promotion will be removed and the user banned. Final decision will be at the discretion of the Taipei Times.