Research vessel to drill for gas off southwest Taiwan
A Taiwanese-German research team is to embark tomorrow on a 34-day methane hydrates exploration mission onboard German ocean research vessel Sonne, the Ministry of Science and Technology said.
The 8,554-tonne vessel arrived in Taiwan on Friday and docked at the Port of Kaohsiung, the ministry said, adding that the joint research team is to explore methane hydrate reserves under the seafloor off Kaohsiung.
A wealth of studies have shown that the energy source is abundant in the nation's southwestern sea, the ministry said, adding that it could meet natural gas needs for decades to come.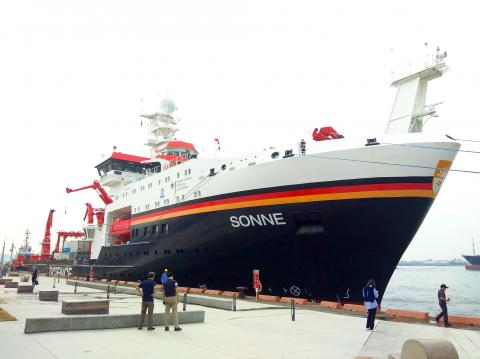 The German ocean research vessel Sonne is docked at the Banana Pier in the Port of Kaohsiung yesterday.
Photo: Hung Ting-hung, Taipei Times
Late in June, a team of Taiwanese and French researchers successfully extracted frozen methane hydrates from the seafloor onboard the French vessel Marion Dufresne.
Equipped with a MeBo200 rotary core driller, the German vessel can operate to a depth of 2,000m and drill cores 200m below the sea floor, the ministry said.
Of the 28 researchers on the mission, 15 would be Taiwanese and 13 German, with Bremen University professor Gerhard Bohrmann as the lead scientist, the ministry said.
Helmholtz Centre for Ocean Research Kiel professor Christian Berndt and National Taiwan University (NTU) oceanography professor Saulwood Lin (林曉武) would serve as deputy scientists, it said.
The drilling mission is part of a methane hydrates research project overseen by NTU oceanography professor Liu Char-shine (劉家瑄), who said he would not sail with the team, as he has other plans and wants to give younger researchers an opportunity.
The samples are to be kept at the Kaohsiung-based Taiwan Ocean Research Institute, with German researchers to be given access to the materials, institute Director-General Wang Chau-chang (王兆璋) said.
Meanwhile, Taiwan's largest ocean research vessel, Legend (勵進), which started trials last month, is to sail on its first official mission at the end of the month or the beginning of next month, Wang said.
The 2,629-tonne vessel is to head for the South China Sea to collect oceanic and atmospheric data, which are increasingly needed for the study of climate change, he said.
However, he added that he could not reveal too many details about the mission due to the sensitivity of territorial claims in the area.
Comments will be moderated. Keep comments relevant to the article. Remarks containing abusive and obscene language, personal attacks of any kind or promotion will be removed and the user banned. Final decision will be at the discretion of the Taipei Times.