Taipei mulls replacing ex-soldiers at schools
MILITARY INSTRUCTORS: Twenty-three schools in the city canceled target practice last year and more did so this year amid a shortage of retired military personnel
The Taipei Department of Education is considering introducing "safety instructors" at high schools to replace military instructors, who arrange target practice classes and teach military education courses.
One-third of Taipei's 67 high schools and vocational high schools have reportedly had to cancel target practice due to a lack of military instructors to oversee the classes.
Military instructors are soldiers assigned to high schools, colleges and universities by the Ministry of National Defense to teach basic military skills and protect students.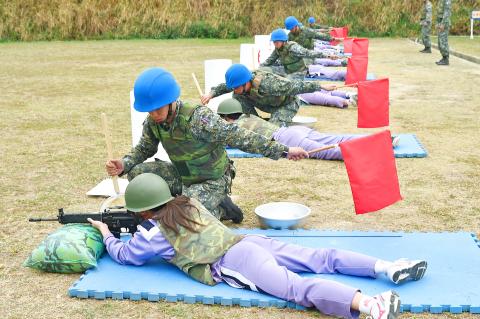 High-school students take part in a shooting competition under the guidance of military instructors as part of the military education courses taught by the Eighth Army Corps' 43rd Artillery Command at Renwu Camp in Kaohsiung's Dashu District on March 15 last year.
Photo: Chang Chung-yi, Taipei Times
The Executive Yuan in January announced that military instructors would be withdrawn from schools starting in 2023.
Schools said that with the departure of military instructors, target practice would be put on indefinite hold until people with military experience would become available to oversee classes.
During a meeting with the department earlier this week, school officials told the municipality that the "safety instructors" could not take over all military education classes, as they lack professional experience.
All military instructors are retired military personnel.
The safety instructors would only be able to oversee simplified classes and assist with counseling, schools said.
The average teacher is unfamiliar with the procedures of target practice, one school official said, adding that it was inevitable that the classes would be canceled.
Target practice is risky and classes are usually held after contacting military units in the area, the education department's Military Education Office said.
It is a demanding job, as military instructors oversee entire classes of students, teach them individually and perform maintenance, the office said.
Last academic year, 23 high schools in Taipei canceled target practice and more have followed suit, office director Tsao Shou-chuan (曹守全) said.
The main reason is a fall in the number of military instructors, Tsao added.
Parents said they supported keeping target practice on the curriculum, as shooting sessions and military education classes could reduce mandatory service time and also offer girls a rare opportunity to handle firearms.
Men born after 1994 are eligible for a 15-day deduction to service time, Taipei Department of Compulsory Military Service Deputy Director Tu Ying-hui (杜英輝) said, but added that military education has become elective rather than compulsory.
The education department said that schools would decide whether to teach target practice, but they should consult parents before arriving deciding.
Practice sessions provide a memorable experience and schools should consider keeping them, even though they could take time to organize due to limited national defense resources, the compulsory service department said.
Comments will be moderated. Keep comments relevant to the article. Remarks containing abusive and obscene language, personal attacks of any kind or promotion will be removed and the user banned. Final decision will be at the discretion of the Taipei Times.