Executive Yuan denies Shenao timeline claims
The Executive Yuan on Friday denied a claim by the New Taipei City Government that the original Shenao power plant ceased operations three years prior to the new Shenao plant being approved in 2010 by then-deputy premier Eric Chu (朱立倫).
Premier William Lai (賴清德) had previously said that Chu in 2010 approved the new plant at a meeting to discuss measures to cut carbon dioxide emissions at "existing" coal-fired power plants.
The New Taipei City Government on Friday issued a statement to counter Lai's account.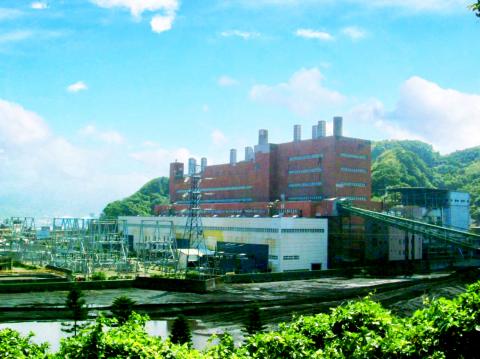 The original Shenao Power Plant is pictured in an undated photograph in New Taipei City's Rueifang District before its decommissioning in 2007.
Photo: CNA, courtesy of Taiwan Power Co
Democratic Progressive Party (DPP) New Taipei City mayoral candidate Su Tseng-chang (蘇貞昌) in 2005, when he was premier, approved the new plant at a Cabinet-level meeting, the city said.
The plan passed an environmental impact assessment in 2006 and the original Shenao plant was decommissioned the following year, it said.
The original plant had ceased operations for three years when the meeting Lai referred to took place, the city government said, adding that Shenao was not even among the topics to be discussed.
The Executive Yuan just before midnight on Friday issued a statement to counter the city's claims.
Chu at the 2010 meeting to discuss carbon dioxide reductions issued a directive to "swiftly review" a series of coal-fired power plant projects and streamline efforts between agencies to solve any difficulties, the Executive Yuan said.
The Executive Yuan presented minutes showing that Chu presided over the meeting.
The projects included the Linkou Power Plant in New Taipei City, the Dalin Plant in Kaohsiung and the Tongsiao Power Plant in Miaoli, as well as the Shenao plant, the minutes showed.
The then-Chinese Nationalist Party (KMT) administration budgeted NT$380 million (US$12.3 million) in 2010, NT$220 million in 2011 and NT$520 million in 2012 for the new Shenao plant, with the project being overseen by the Executive Yuan, the statement said.
"This shows that the [new] Shenao power plant was an important part of the nation's energy policy, regardless of whether the DPP or KMT was the ruling party," the Executive Yuan said.
"However, the New Taipei City Government chose to mislead the public. This is wrong," it said.
The city government yesterday reiterated that new Shenao plant was approved when Su was premier, with the then-DPP administration earmarking NT$1.18 billion for the project.
Comments will be moderated. Keep comments relevant to the article. Remarks containing abusive and obscene language, personal attacks of any kind or promotion will be removed and the user banned. Final decision will be at the discretion of the Taipei Times.