Poll shows KMT's Lu ahead in Taichung
Chinese Nationalist Party (KMT) Taichung mayoral candidate Lu Shiow-yen (盧秀燕) is leading Democratic Progressive Party (DPP) Taichung Mayor Lin Chia-lung (林佳龍) by 6.5 percentage points, according to an opinion poll released on Friday by a KMT think tank.
Asked who they would select if voting was the next day, 40.1 percent of respondents said they favored Lu, 33.6 percent said they favored Lin, 1.7 percent said they favored independent candidate Sung Yuan-tung (宋原通) and 24.6 percent were undecided, the poll found.
Asked if they liked Lu, 39 percent say they did, while 15.6 percent said they did not, compared with 33.7 percent who said they liked Lin and 31 percent who said they did not, it showed.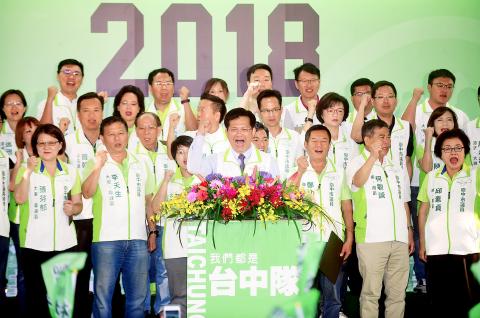 Taichung Mayor Lin Chia-lung, at podium, and Democratic Progressive Party Taichung city councilors gesture at the opening of Lin's mayoral election campaign headquarters in Taichung on Sept. 15.
Photo: Liao Yao-tung, Taipei Times
A total of 38.6 percent of respondents said they were satisfied with Lin's performance, while 36.2 percent said they were dissatisfied, it showed.
Meanwhile, 60.8 percent said they were displeased with President Tsai Ing-wen's (蔡英文) performance, while 20 percent said they approved of it, the poll showed.
Almost half — 48.7 percent — said the Taichung mayoral election is a bellwether and gives them a chance to vent their frustration with the ruling party, while 29.4 percent of respondents disagreed with the statement.
The survey was conducted by Television Broadcasts Satellite at the behest of the National Policy Foundation between Sept. 19 and Sept. 30 among 2,533 Taichung residents who were eligible to vote. It has a margin of error of 1.9 percentage points.
Speaking at a news conference held by the foundation in Taipei, National Open University professor Jack Lee (李允傑) said a series of opinion polls released by the media early last month showed Lin and Lu were neck-to-neck, as Lu's lead was within the margin of error.
However, that is no longer true, as the foundation's poll shows, Lee said.
Lin has been embroiled in a number of controversies, including his scrapping of the city's bus rapid transit system — which reportedly made commuting in Taichung more inconvenient — and the drastically increased budget for producing passes for the Taichung Flora Exposition, which rose from NT$110 million (US$3.56 million) to NT$380 million, Lee said.
Conversely, Lu has shown resolve in improving the city's air quality and has taken advantage of her joint campaign activities with KMT New Taipei City mayoral candidate Hou You-yi (侯友宜) and KMT Kaohsiung mayoral candidate Han Kuo-yu (韓國瑜), with the three capitalizing on air pollution issues to launch effective attacks on DPP energy policy, Lee said.
This has bolstered support for Lu, he said.
Comments will be moderated. Keep comments relevant to the article. Remarks containing abusive and obscene language, personal attacks of any kind or promotion will be removed and the user banned. Final decision will be at the discretion of the Taipei Times.