Defense minister says Taiwan is secure
Minister of National Defense Yen De-fa (嚴德發) on Friday reaffirmed the ministry's ability to defend the nation.
The minister was responding to a CNN report on Thursday, which said that the US was planning a show of force in areas close to Chinese-claimed territory in the South China Sea and in the Taiwan Strait.
The Ministry of National Defense was closely monitoring the situation, Yen said.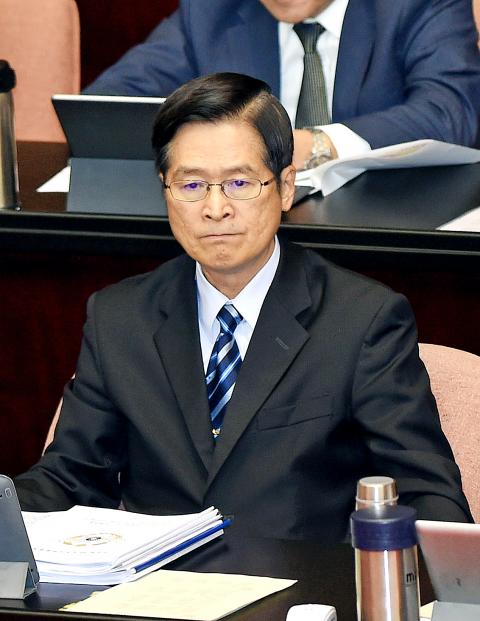 Minister of National Defense Yen De-fa answers questions in the Legislative Yuan on Friday.
Photo: Fang Pin-chao, Taipei Times
"Taiwanese do not need to worry," Yen said at a hearing held at the Legislative Yuan. "The military is capable of ensuring national security and defending the nation."
In the report, CNN quoted several unnamed US military officials as saying that "the US Navy's Pacific Fleet has drawn up a classified proposal to carry out a global show of force as a warning to China and to demonstrate the US is prepared to deter and counter their military actions."
According to the report, the US aims to send ships close to Chinese-claimed waters in the South China Sea and in the Taiwan Strait in November in a freedom of navigation operation to demonstrate the right of free passage in international waters.
The Pentagon declined to comment on the proposal, with spokesman David Eastburn saying in the CNN report that the Pentagon did not comment on future operations of any kind.
The US Navy operations in the CNN report were a matter for Washington to decide on — so Taiwan's defense ministry was not in a position to comment, Yen said.
Whether in the South China Sea or the Taiwan Strait, Taiwan's military is immediately aware of any changes in Chinese military deployments, so Taiwanese can remain confident that the nation is secure, Yen added.
Comments will be moderated. Keep comments relevant to the article. Remarks containing abusive and obscene language, personal attacks of any kind or promotion will be removed and the user banned. Final decision will be at the discretion of the Taipei Times.