District office designs pair of figurines to promote area's fishing village charm
Kaohsiung's Zihguan District Office has designed two new figurines to promote the Kezihliao (蚵仔寮) area.
Kezihliao, which literally means "oyster house," is near the mouth of the Dianbao River (典寶溪) in Zihguan District (梓官), and was famed more than 200 years ago for producing oysters, the office said on Monday.
Back in the day, Kezihliao Fishing Harbor was also one of southern Taiwan's a main producers of flathead gray mullet, it said.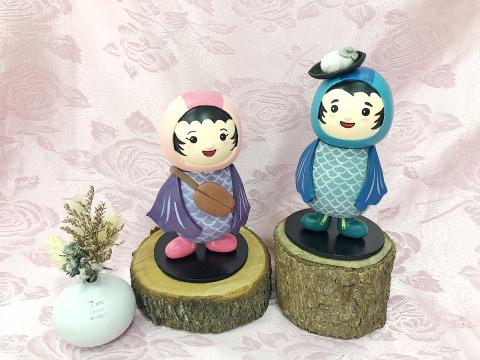 Two figurines called "Oyster Girl," left, and "Flathead Gray Mullet Boy," created at Kaohsiung's Zihguan District Office and inspired by the winning works of a public contest to promote the fishing-village culture in the Kezihliao area, are displayed at the office on Monday.
Photo: Su Fu-nan, Taipei Times
The district hoped to highlight the area's unique charm with a figurine contest, it said, adding that it also hosted writing and coloring contests.
Lin Chih-yi's (林知儀) flathead gray mullet figurine won first place, while Chang Ching-wen's (張景雯) oyster fisherman figurine and Chan Ya-ting's (詹雅婷) figurine of a fishing village boy placed second and third respectively, it said.
Using these designs as inspiration, the office created two new figurines that were nicknamed "Flathead Gray Mullet Boy" and "Oyster Girl."
The former, who has the star sign Cancer, is humble and friendly, office director Chiang Chin-an (蔣金安) said, adding that his strengths are fishing and gardening, and his hobbies are playing sports and making friends.
The latter, who is a Sagittarius, is outgoing and kind, he said, adding that her strengths are cooking and photography, and her hobbies are traveling and singing.
Comments will be moderated. Keep comments relevant to the article. Remarks containing abusive and obscene language, personal attacks of any kind or promotion will be removed and the user banned. Final decision will be at the discretion of the Taipei Times.