'Hearthstone' team disqualified from finals for cheating
Taiwan's team at a Hearthstone e-sports event in Singapore was yesterday disqualified for watching a broadcast of the competition in which their opponents' cards were visible, losing their chance to play in the world finals next month at BlizzCon in the US.
Taiwan had advanced to the final 16 at the Hearthstone Global Games, securing their place in the world finals in Anaheim, California.
They finished in second place in Group C after bouncing back from a 0-3 loss to New Zealand to defeat the US 3-1 and Singapore 3-2.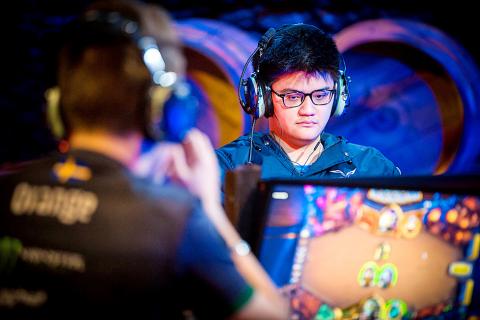 Taiwanese e-sports player tom60229, given name Chen Wei-lin, participates in the Hearthstone Global Games in Amsterdam on Jan. 23.
Photo courtesy of Blizzard Entertainment Inc
Taiwan's team, which consists of last year's world champion, "tom60229," as well as "Roger," "reall.hs" and "Shaxy," were heavily favored to reach the world finals.
"Tom60229" is Chen Wei-lin (陳威霖), "Roger" is Lo Cheng-yuan (羅晟原), "reall.hs" is Kuo Shao-an (郭紹安) and "Shaxy" is Liu Wei-chieh (劉瑋劼), who was caught watching the broadcast.
Singapore is to take Taiwan's place in the Hearthstone Global Games playoffs at BlizzCon.
"The Chinese Taipei Hearthstone Global Games team has been disqualified from the Hearthstone Global Games competition," Blizzard Entertainment said in a statement on its Web site.
"Following the Chinese Taipei vs Singapore match, the Chinese Taipei team uploaded a video of their game play. Upon review of the video, and after reviewing in-person statements from the players, the Hearthstone e-sports team has determined that members of the Chinese Taipei team used the delayed tournament broadcast to aid them in a decision during the game," it added.
The decision sparked criticism from Taiwan's e-sport community and calls for an explanation.
Chen said they are still in Singapore and cannot comment, but promised to explain what happened when they return to Taiwan next week.
Comments will be moderated. Keep comments relevant to the article. Remarks containing abusive and obscene language, personal attacks of any kind or promotion will be removed and the user banned. Final decision will be at the discretion of the Taipei Times.