Police station renamed for Thao
A police station in Nantou County's Yuchih Township (魚池) was renamed on Wednesday after complaints from residents that its previous name was offensive to Aborigines and was a holdover from the Chinese Nationalist Party (KMT) authoritarian era.
The station in the Ita Thao area, near Sun Moon Lake (日月潭), had been called Dehua (德化) — a term originating from the phrase "civilizing the Aborigines with virtues" (以德化番).
The area, famous for its Thao community, was known as the Dehua area during the Martial Law era.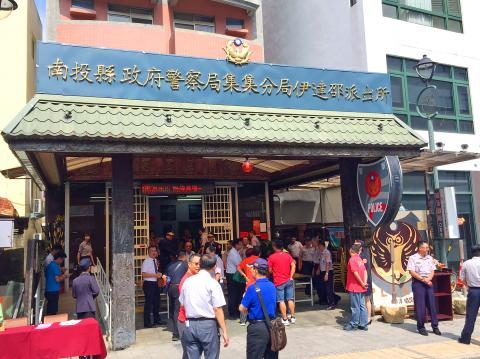 Residents and police officers on Wednesday mingle outside the newly renamed Ita Thao Police Station in Nantou County's Yuchih Township.
Photo: Liu Pin-chuan, Taipei Times
Although the area was renamed Ita Thao in 2000, the police station had kept its original name.
The name Dehua was a historical burden that reeks of colonialism and authoritarianism, and has long irritated the Thao people in the area, Rihyue Village (日月) head Shih Chun-hung (石春鴻) said.
To back their calls for a name change, residents sought support from county councilors and held a vote at a meeting, before submitting an application to the county government, he said.
Nantou County Councilor Shih Ching-lung (石慶龍), a Thao, said that in the past, place names were typically determined by the central government and the lack of democratic procedures had led to unnecessary conflict and misunderstanding.
He had backed the name change in the hope of bringing about transitional justice for the Thao community, he added.
On Wednesday, a new plaque bearing the name "Ita Thao Police Station" was unveiled.
The name will hopefully bring residents and police officers closer and enable them to cooperate in combating crime, said Jiji Precinct, whose jurisdiction covers the station.
Comments will be moderated. Keep comments relevant to the article. Remarks containing abusive and obscene language, personal attacks of any kind or promotion will be removed and the user banned. Final decision will be at the discretion of the Taipei Times.