Court orders retrial for death row arsonist
PROPER PROCEDURE: Judges said that an expert should have evaluated whether Tang Ching-hua was eligible to have his sentence reduced because of his neurotic disorder
The Supreme Court yesterday ordered a retrial for Tang Ching-hua (湯景華), a convicted arsonist who had been on death row, after being found guilty of setting a fire that killed six people in New Taipei City.
Tang, 51, was handed the death sentence in May, after the Taiwan High Court upheld an earlier New Taipei City District Court ruling.
According to the ruling, Tang was involved in an altercation with Weng Hsiang-chih (翁祥智) and another man at a restaurant in April 2014. He filed assault charges against Weng, but lost the case.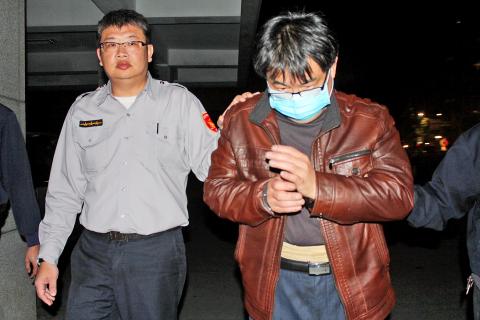 Tang Ching-hua, right, is escorted by a police officer in New Taipei City on April 1, 2016.
Photo: Chen Wei-tse, Taipei Times
In an apparent attempt to get back at Weng, Tang set the fire at an old apartment building in Sanchong District (三重) on March 23, 2016, which resulted in the deaths of six of Weng's family members. Weng escaped from the burning building.
Yesterday, judges said that Tang's defense had provided a medical record stating that Tang had a neurotic disorder, but that in the second ruling, the prosecution did not call on a psychiatrist or medical expert to evaluate whether Tang was eligible to have his sentence reduced because of the disorder.
The judges said that there was also an inconsistency between the wording used in the High Court's conviction, which said that Tang had committed manslaughter with "indirect intent," and in the "facts of the case" section, where it said that Tang had committed manslaughter with "direct intent."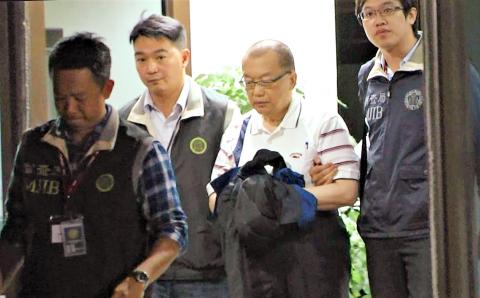 Roger Lin, second right, is escorted from the Taoyuan District Court on May 11.
Photo: Cheng Shu-ting, Taipei Times
During the first trial, prosecutors said Tang had told police: "I only wanted to give him [Weng] a warning. I had no idea the blaze would become so intense and cause so many people's deaths. What I did was wrong."
However, in the second trial, Tang retracted his admission.
He said he could not remember what happened that night, and that he was innocent.
However, footage from surveillance cameras, showed Tang riding his motorcycle to the area, then carrying containers filled with gasoline and two large bags of newspapers to the apartment building. Footage from another camera showed him setting the newspapers alight and pouring gasoline onto motorcycles parked in front of the apartment.
In the first two rulings, the judges said that they handed him the death sentence because his actions, in revenge for a minor squabble, had required planning and he had started a blaze in a densely populated residential area, which showed he had complete disregard for human life and property.
Comments will be moderated. Keep comments relevant to the article. Remarks containing abusive and obscene language, personal attacks of any kind or promotion will be removed and the user banned. Final decision will be at the discretion of the Taipei Times.