No plans to postpone 5G license auction, NCC says
INQUIRING MINDS: One legislator asked if telecoms had asked for a delay as they have yet to recuperate what they spent on the 4G auction and infrastructure
The government plans to release 5G telecom licenses in 2020, National Communications Commission (NCC) Chairwoman Nicole Chan (詹婷怡) confirmed yesterday, adding that the Executive Yuan would decide on the frequency bands to be auctioned off by the end of this year.
Chan was asked by lawmakers at a meeting of the legislature's Transportation Committee if the government planned to postpone the auction.
Democratic Progressive Party (DPP) Legislator Lin Chun-hsien (林俊憲) asked if the commission was being cautious, as it was quoted in a media report as having said that the nation should be "a smart follower of technology."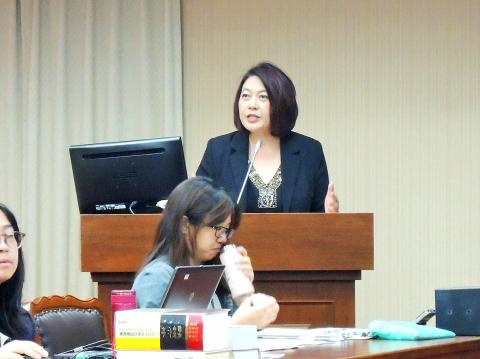 National Communications Commission Chairwoman Nicole Chan speaks at a meeting of the legislature's Transportation Committee in Taipei yesterday.
Photo: Liu Li-jen, Taipei Times
A lot of people are looking forward to the start of 5G services, because 4G no longer satisfies their demands, DPP Legislator Chen Ming-wen (陳明文) said.
He asked if the commission has estimated the number of licenses that would be issued, as 5G service providers would need more bandwidth.
DPP Legislator Chen Su-yueh (陳素月) asked if any of the nation's five telecoms had requested that the commission delay the auction, as they have yet to recover their costs from the 4G auction and the construction of the 4G system.
Premier William Lai (賴清德) on Wednesday said that the government is scheduled to issue 5G licenses in 2020, which is consistent with the commission's plans, Chan said.
The commission never said that it planned to postpone the auction or hold it early, she said, adding that it aims to have all the frequency bands designated for the auction by the end of this year.
The bandwidth for 5G operators must be at least 80MHz to 100MHz, Chan said, adding that the commission must first ascertain the total number of frequency bands in the high, medium and low frequencies that can be put up for auction before determining the number of licenses that should be released.
No telecoms have indicated that they want the auction be postponed, Chan said.
Even though the 5G licenses would not be released until 2020, the nation's three big telecoms — Chunghwa Telecom, Taiwan Mobile and Far EasTone Telecommunications — are eager to get ahead of the competition, Chan said.
Chunghwa Telecom was the nation's first to be able to transmit at speeds fulfilling the 5G specifications laid out by the 3rd Generation Partnership Project, Far EasTone was recently admitted to the 5G Automotive Association, and Taiwan Mobile is already forming partnerships with 50 domestic and international companies and plans to conduct 5G service experiments next year, Chan said.
Comments will be moderated. Keep comments relevant to the article. Remarks containing abusive and obscene language, personal attacks of any kind or promotion will be removed and the user banned. Final decision will be at the discretion of the Taipei Times.