Ko's office asks author to explain change of stance
ORGAN HARVESTING: At a news conference in the capital, Ethan Gutmann answered 'yes' when asked whether he thought Taipei Mayor Ko Wen-je was a liar
Taipei Mayor Ko Wen-je's (柯文哲) election campaign office yesterday said baseless accusations should not be made for electoral gains and asked US author Ethan Gutmann to explain why he changed his attitude about accusations that Ko was involved in organ harvesting in China.
The office made the remarks after a news conference in Taipei yesterday, when Gutmann answered questions about his 2014 book The Slaughter: Mass Killings, Organ Harvesting, and China's Secret Solution to Its Dissident Problem in which Ko was one of the interviewees.
Wu Hsiang-hui (吳祥輝), a political pundit and owner of Butterfly Orchid Cultural Creativity who plans to publish a Chinese-language version of the book, on Sept. 3 took out a full-page ad in the Chinese-language Liberty Times (the Taipei Times' sister newspaper) featuring excerpts from the book and claimed that Ko knew that many organs transplanted in China came from Falun Gong members.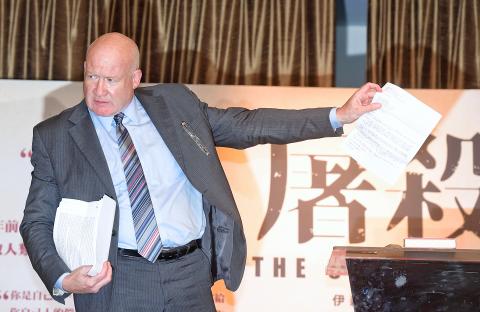 Ethan Gutmann, author of the 2014 book The Slaughter: Mass Killings, Organ Harvesting, and China's Secret Solution to Its Dissident Problem, calls Taipei Mayor Ko Wen-je a liar at a news conference in Taipei yesterday.
Photo: Huang Yao-cheng, Taipei Times
Ko the same day said that Gutmann had already clarified in a written statement in 2014 that Ko was not acting as an "organ broker" or was in any way involved with purchasing organs.
Wu on Sept. 4 said that he believes what Gutmann wrote was the truth, adding that he would sue Ko for damaging his reputation.
After several people commented on Gutmann's Facebook page, the author shared a link to a 2014 video, in which he explains his interviews and e-mail correspondence with Ko.
"In my book, I do not describe Dr Ko as an organ broker. I described him as a man of singular courage," Gutmann said in the video, adding that Ko has created an electronic form that would identify the source of every organ and if Chinese doctors were required to use it, it would make the process transparent and hold doctors accountable.
However, in yesterday's news conference, Gutmann was asked if he had changed his mind about Ko and answered "yes" when he was asked whether he thought Ko was a liar.
Gutmann showed a group photograph of Ko attending a conference on Extracorporeal Membrane Oxygenation training in China and said Ko had told him he knew about organ harvesting of Falun Gong members in 2005, but he had discovered that the conference took place only three months before he interviewed Ko.
"Dr Ko did not say explicitly [in the interview] what he did in the mainland," Gutmann said, adding that Ko did not tell him whether he was making money or arranging for patients to receive organ transplants in China.
The best description he could come up with is that Ko was a "middleman," Gutmann added.
"Ko was a potential conduit to Taiwanese patients," he said, adding that this created a "perverse incentive" to harvest the organs of Falun Gong members.
Ko's campaign office said Ko was working at National Taiwan University's Intensive Care Unit at the time and did not see outpatients, adding that organ transplants must be conducted by a medical team, not a single doctor.
It also criticized those who are using the issue to hurt the medical community for electoral gain.
Comments will be moderated. Keep comments relevant to the article. Remarks containing abusive and obscene language, personal attacks of any kind or promotion will be removed and the user banned. Final decision will be at the discretion of the Taipei Times.