Arrests made over suspected illegal drugs operation
Law enforcement personnel have arrested five suspects and seized more than 5,000kg of ketamine and other drugs from a premises in southern Taiwan, the Investigation Bureau said.
The building, on the border between Chiayi County and Tainan, housed the biggest operation to have been raided in Taiwan, bureau officials said at a news conference in Kaohsiung on Tuesday.
Bureau agents in Kaohsiung described the site as a turnkey factory from China, with its equipment, raw materials and drug-producing technology shipped across the Taiwan Strait.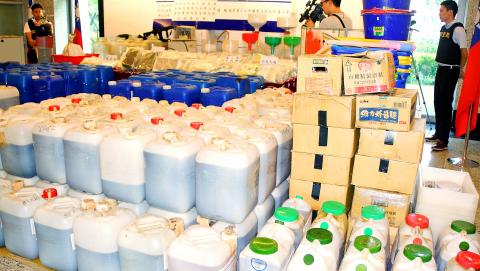 Law enforcement personnel in Kaohsiung on Tuesday guard items seized from an alleged illegal drugs operation.
Photo: CNA
With China beefing up its anti-drug campaign by introducing stricter punishments, there have been signs suggesting that underground drug factories are being relocated to Taiwan, the bureau said.
The bureau said its first lead in the case came in May when customs officers discovered 120kg of raw materials for the production of ketamine during an inspection of a shipment from China at the port of Kaohsiung.
A special team of investigators was organized to trace the origin of the materials, it said.
In July, the team found that a 32-year-old Taiwanese man with a criminal record, identified only by his surname, Lin (林), was the head of a criminal ring that was having drug-production equipment and raw materials for ketamine couriered to Taiwan from China, the bureau said.
After investigators, who were following the suspects, saw that they were producing ketamine, the team launched the raid on Aug. 10 along with prosecutors, military personnel, local police and coast guard officers, the bureau's Kaohsiung section said.
They seized 5,268kg of ketamine, including ketamine being processed, 10kg of marijuana bricks, 15kg of synthetic marijuana and 30kg of chloroethcathinone, the bureau said.
The bureau did not announce the raid until Tuesday because it wanted to track leads on possible sources of funding of the suspects, it said.
Comments will be moderated. Keep comments relevant to the article. Remarks containing abusive and obscene language, personal attacks of any kind or promotion will be removed and the user banned. Final decision will be at the discretion of the Taipei Times.