Policy change needed to cultivate talent: experts
REFORM: Business and academic experts called for better regulations to encourage industry-school collaborations and developing talent that meet specific industries' needs
Business leaders and academics yesterday called for more effective government policies to promote school and industry partnerships and cultivate talent to invigorate a sluggish economy.
Companies frequently complain about a lack of Taiwanese talent, attributing the problem to young people's work ethic and poor-quality school programs, while workers accuse employers of being exploitative and lacking in business vision, presidential adviser Chen Po-chih (陳博志) said at the forum in Taipei, called "Are schools failing to cultivate talent, or are businesses failing to recognize talent?"
A Ministry of Education plan that would grant citizenship to overseas Chinese after working in Taiwan for seven years would only aggravate the employment problem, Chen told the forum organized by the Professor Huang Kun-huei Education Foundation.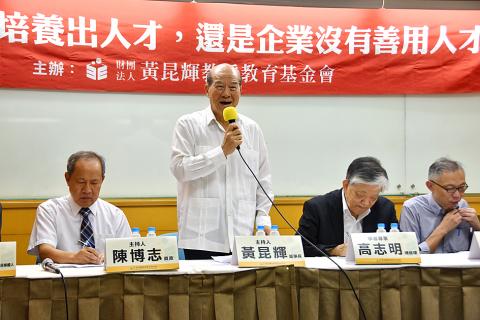 Taiwan Solidarity Union Chairman Huang Kun-huei, second left, speaks at a forum held by the Professor Huang Kun-huei Education Foundation at National Taiwan University's Alumni Club in Taipei yesterday.
Photo: Wu Po-hsuan, Taipei Times
"Offering naturalization to any overseas Chinese after seven years would increase the supply of jobseekers without raising the demand," he said.
It would also "turn many diploma mills into citizenship stores," he added.
Government policies to attract foreign workers need to target workers whose talent suit specific industries, he said.
Current regulations make it difficult to promote cooperation between schools and businesses, I-Mei Foods Co general manager Kao Chih-ming (高志明) said, citing his frustrating experience in seeking collaborations with Academia Sinica and several universities.
"Regulations regarding such collaborations are very complex, because they are designed to prevent businesses from stealing institutions' intellectual properties. Public research institutions tend to treat private businesses like thieves, when an open collaboration would have been mutually beneficial," Kao said.
Private businesses also possess great technologies and often have more experience than public research institutions, he said.
While more flexible regulations on school-industry partnerships can help develop workers' talent, Kao said he is not hopeful that the system would change in the near term.
To ensure that schools develop workers with skills that meet industry needs, the government should offer incentives for teachers and students to join programs that industries need, National Taiwan Normal University professor Fan Shih-ping (范世平) said.
Without any policies to control the number and types of school programs, key industries would continue to suffer a lack of workers, while others would see a saturated job market, he said.
To further examine education and industry issues, the foundation is to hold next month the International Conference on Education Policy and Economic Development in conjunction with the National Academy for Education Research, National Taiwan University, National Taiwan Normal University, National Chung Cheng University, National Chi Nan University, National Dong Hwa University, foundation chairman Huang Kun-huei (黃昆輝) said.
The conference, which is to feature academics from the US, South Korea, Japan and Singapore, is to take place on Oct. 5 and Oct. 6 at the Taipei International Convention Center.
Comments will be moderated. Keep comments relevant to the article. Remarks containing abusive and obscene language, personal attacks of any kind or promotion will be removed and the user banned. Final decision will be at the discretion of the Taipei Times.