Hualien defends stance on whale-watching rules
KEEPING A DISTANCE: The three whale-watching firms in the county follow the Fisheries Agency's rules and exercise self-discipline, the county said
The Hualien County Government said it would continue to defer to Fisheries Agency regulations regarding whale-watching activities, adding that it is not planning to draft regulations under the county's ordinance for self-government.
The announcement was in response to comments made by travel journalist Huang Chia-lin (黃佳琳) on a video provided by a whale-watching company.
Last week, Huang shared a video on Facebook and wrote that the whale-watching boats seen in the footage were too close to the sperm whale.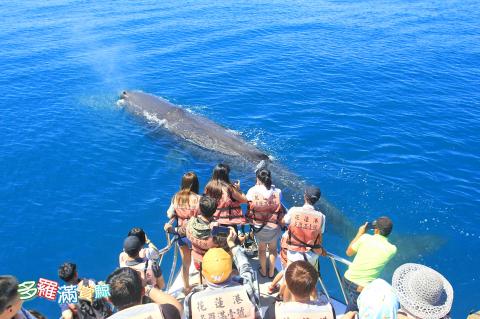 Tourists watch a sperm whale from a whale-watching boat in waters off Hualien County on Thursday last week .
Photo courtesy of Turumoan Whale Watching and Water Entertainment Co.
Whale-watching companies have been operating in Taiwan for more than 20 years, but there is still no government regulation of the industry, Huang said.
County government official Huang Yao-hsing (黃耀興) said the three whale-watching businesses in the county observed agency regulations and exercised great self-discipline.
Should the county government move to draft an ordinance on the matter, it would invite academics and experts on the subject, he said.
However, the county is not contemplating such a move, due to the procedure involved, he added.
The agency had called two public hearings regarding the whale-watching industry, but was not given a legal basis to establish binding legislation on the industry, Huang Yao-hsing said.
Whale-watching boats should slow down within 300m of whales and dolphins, and should only approach the animals from behind, Huang Yao-hsing said, citing regulations.
The boats should idle their engines within 80m of the whales and business operators should refrain from having too many boats circling the animals, Hung Yao-hsing said, adding that the boats should keep their distance from whales with calves.
Turumoan Whale Watching co-owner Lu Shih-ming (呂世明) said that the company has instructed its boats to idle their engines within 500m of whales and dolphins, and refrain from taking overt actions.
Comments will be moderated. Keep comments relevant to the article. Remarks containing abusive and obscene language, personal attacks of any kind or promotion will be removed and the user banned. Final decision will be at the discretion of the Taipei Times.