Mobile app caused train booking issue
ID BUG: An unauthorized ticket-booking app changed customers' ID numbers to 'A100000001,' creating about 50,000 false data entries over seven months last year
A mobile application developed by a private citizen was found to have disrupted train ticket reservations during last year's Mid-Autumn Festival holiday, the Taiwan Railways Administration (TRA) said yesterday.
The Railway Police Bureau after a year-long investigation located the designer of the application and turned the case over to the Shilin District Prosecutors' Office to press charges related to contraventions of the Trademark Act (商標法) and rules governing computer security and forgery in the Criminal Code, the TRA said.
The TRA had formed a special task force with the bureau to crack down on people who book train tickets illegally, it said.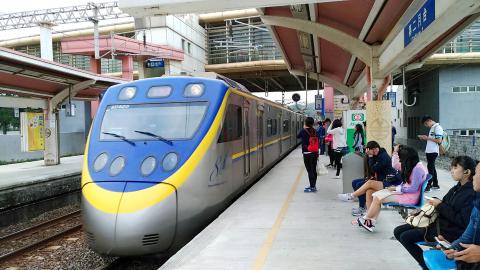 A Taiwan Railways Administration (TRA) train stops at Yangmei Station in Taoyuan on Saturday last week.
Photo courtesy of the TRA
The task force found that during the Mid-Autumn Festival period last year, multiple people used the same identification card number — A100000001 — to book tickets, the TRA said, adding that the users were unrelated, as they booked the tickets from the nation's north and east.
"Police then asked people who used the fake ID number to come to the bureau for questioning. They told police that they had indeed booked the tickets, but they did not use the fake ID number," the TRA said.
The bureau then worked with Chunghwa Telecom engineers to explore potential reasons for the abnormality, the TRA said, adding that they identified an iOS application that might have caused the problem.
Their investigations showed that people booking TRA tickets entered their own ID numbers, but the application would only show the fake number, it said.
The application, which was not authorized by the railway operator, has been downloaded more than 800,000 times, the TRA said.
Between January and July last year, the application created about 50,000 pieces of abnormal data, the TRA said, adding that people should use the official app.
Comments will be moderated. Keep comments relevant to the article. Remarks containing abusive and obscene language, personal attacks of any kind or promotion will be removed and the user banned. Final decision will be at the discretion of the Taipei Times.