Ko tops national approval rating poll
Taipei Mayor Ko Wen-je (柯文哲) received the highest approval rating among all local government heads in a poll released on Tuesday by the Chinese-language CommonWealth Magazine.
The annual survey seeks to find the approval ratings of local government heads by giving them comprehensive administrative performance satisfaction points.
Eighty percent of the score comes from two sources: public opinion on general performance (30 percent) and public opinion on performance in five specific areas (10 percent each). The remaining 20 percent is based on the views of experts.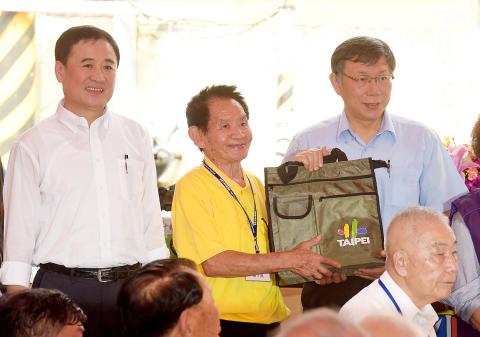 Taipei Mayor Ko Wen-je, right, and Taipei Deputy Mayor Chen Chin-jun, left, present a gift to a veteran during a visit to dormitories for military veterans in Daan District yesterday.
Photo: Huang Yao-cheng, Taipei Times
The survey also asked respondents who among all local government heads had the best administrative performance.
Ko received the highest approval rating at 27.6 percent, followed by Taoyuan Mayor Cheng Wen-tsan (鄭文燦) of the Democratic Progressive Party (DPP) at 10 percent, and New Taipei City Mayor Eric Chu (朱立倫) of the Chinese Nationalist Party (KMT) at 9.5 percent.
The result reflects the public's dissatisfaction with both the pan-blue and pan-green camps, the magazine said, adding that Ko's performance satisfaction rating also increased from 49.36 points (No. 21) in 2016 to 56.03 points (No. 21) last year and to 57.12 points (No. 12) this year.
Lienchiang County Commissioner Liu Tseng-ying (劉增應) of the KMT this year received the highest performance satisfaction rating for the third consecutive year, the poll found.
Taitung County Commissioner Justin Huang (黃健庭) of the KMT ranked second, followed by then-Hualien County commissioner Fu Kun-chi (傅崐萁), Cheng, independent Kinmen County Commissioner Chen Fu-hai (陳福海) and Nantou County Commissioner Lin Ming-chen (林明溱) of the KMT.
As Cheng was the only DPP member to make it to the top six, the magazine said the approval for DPP local government heads can be affected by the public's approval of the central government led by the DPP.
Two former DPP mayors with high approval ratings — former Tainan mayor William Lai (賴清德), who in July last year became premier, and former Kaohsiung mayor Chen Chu (陳菊), who in April became Presidential Office secretary-general — left their posts, the acting mayors in the two cities received lower approval ratings, ranking near the bottom of the list, the magazine said.
The telephone survey was conducted from July 6 to Aug. 14 through stratified random sampling. A total of 14,834 valid responses were collected from people aged 20 or over.
The poll has a margin of error of 3.1 to 4.2 percentage points.
Comments will be moderated. Keep comments relevant to the article. Remarks containing abusive and obscene language, personal attacks of any kind or promotion will be removed and the user banned. Final decision will be at the discretion of the Taipei Times.