KMT caucus criticizes 'inaction' over statue case
The Chinese Nationalist Party (KMT) caucus yesterday accused the government of inaction following the alleged attack by a Japanese visitor on a comfort woman statue erected next to the party's Tainan chapter offices.
Japanese Representative to Taiwan Mikio Numata must apologize for the incident, but the government has shied away from responding to the "intrusive and impudent" action of Mitsuhiko Fujii, a member of the Alliance for Truth About Comfort Women, KMT caucus deputy secretary-general Ko Chih-en (柯志恩) told a news conference in Taipei.
Fujii can allegedly be seen in surveillance footage kicking the statue on Thursday last week during a visit to Taiwan to deliver an invitation to the Tainan Alliance for Comfort Women's Rights to a public debate on the comfort women issue.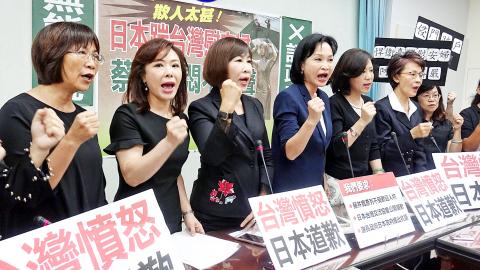 Chinese Nationalist Party (KMT) legislators and others chant at a Taipei news conference yesterday as they called for Japan to apologize over an alleged attack last week on a statue in Tainan honoring comfort women.
Photo: Liu Hsin-de, Taipei Times
Fujii lied when he accused the KMT of altering the footage and said he had only stretched his leg because he felt a "numbness" in it, Ko said.
The Ministry of the Interior must list Fujii as an unwelcome person and Representative to Japan Frank Hsieh (謝長廷) must lodge a formal protest with Tokyo over the incident, the caucus said.
Calling Fujii's claims "pathetic and shameless," KMT Legislator Alicia Wang (王育敏) said Fujii's action had hurt the dignity of Taiwanese women and was intolerable.
As the nation's first female leader, President Tsai Ing-wen's (蔡英文) silence over the incident was disheartening, Wang said.
Wang said she has completed a draft amendment to protect the rights of former comfort women and their families, which the incident showed are in need of strengthening.
Her proposal stipulates a prison term of up to one year and a fine of up to NT$10,000 for people who hurt the dignity of former comfort women through discriminatory actions, which would include disrespecting statues, she said.
The UN Human Rights Committee in 1996 defined comfort women as girls and women from several Asian nations who were abducted and forced into sexual slavery prior to and during World War II by the Japanese Imperial Army, Hua Hsia Social Welfare Association director-general Jennifer Wang (王如玄) told the news conference.
Japan and South Korea signed an agreement on Dec. 28, 2015, to resolve the comfort women issue, with Japanese Prime Minister Shinzo Abe issuing an apology and Tokyo issuing compensation, but Taiwanese comfort women have not yet received the apology and compensation they are due, Wang said.
"I have often wondered: Are Taiwanese not as human as South Koreans?" she said.
Comments will be moderated. Keep comments relevant to the article. Remarks containing abusive and obscene language, personal attacks of any kind or promotion will be removed and the user banned. Final decision will be at the discretion of the Taipei Times.