Combat drone plans submitted
INTELLIGENCE: The Ministry of National Defense said drones can supply accurate information, which would help ensure enemy deployments could be annihilated
Uncrewed tactical reconnaissance and combat-capable drones are to be prioritized to ensure the annihilation of enemy forces on beachheads and coastal zones, Ministry of National Defense plans submitted for legislative review alongside the fiscal 2019 defense budget showed on Friday.
Tengyun long-range drones developed by the Chungshan Institute of Science and Technology, as well as anti-radiation attack drones being developed as part of Project Jiansiang, are being considered, the ministry said.
The Tengyun drones have four weapons pylons compatible with Hellfire missiles or similar air-to-surface missiles, the ministry said, adding that the anti-radiation drones would be able to find and target enemy radar systems, or the platforms on which they are installed.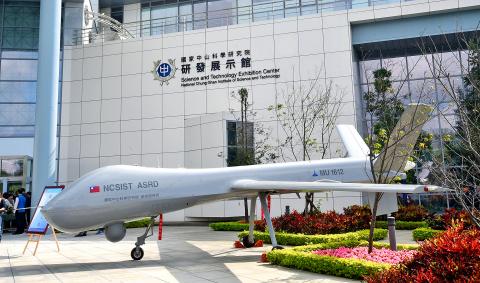 A Tengyun uncrewed aerial vehicle is displayed at the National Chungshan Institute of Science and Technology's Science and Technology Exhibition Center in Taoyuan on Dec. 29 last year.
Photo: Liu Hsin-de, Taipei Times
The development of drones is part of the ministry's goal to ensure the annihilation of enemy deployments on beaches.
Drones would relay information about enemy movements and improve combat efficiency due to the accurate information they provide, the ministry said.
The plan consists of four major goals: force protection, decisive victory in littoral areas, the annihilation of enemies on beachheads and providing disaster relief.
Greater mobility, more underground bases and the construction of more underground bunkers would greatly preserve logistics capability and combat survival rates, the ministry said.
Mobile air defense will be strengthened, while camouflage and reinforcement of joint-command structures is also planned, it said.
Precision-strike weaponry would be advantageous to winning engagements in littoral regions, while multi-role drones with longer airborne times and increased subsurface combat capabilities are being looked into, the ministry said.
Establishment of light, highly efficient combat ships to work in tandem with anti-surface strikes would increase the area of combat proficiency, the ministry said, adding that land-based anti-surface missiles would also help win decisive victories in coastal regions.
Anti-armor missiles, portable anti-armor and air defense weaponry, as well as mobile, precision weaponry would boost the military's capabilities to defend beachheads, the ministry said.
Equipment and software systems to assist disaster-relief efforts will be purchased, while additional funding would be provided to buy hazardous-materials suits to protect military personnel from chemical or nuclear warfare, the ministry said.
Comments will be moderated. Keep comments relevant to the article. Remarks containing abusive and obscene language, personal attacks of any kind or promotion will be removed and the user banned. Final decision will be at the discretion of the Taipei Times.