Films on Yushan win platinum award at US film festival
Two documentaries about Yushan (玉山), also known as Jade Mountain, the highest peak in Taiwan, won the top Platinum Remi award at the WorldFest-Houston International Film & Video Festival in the US, the Yushan National Park Headquarters said on Wednesday.
Mountaineering to Yushan (玉山行) and Postcards from Nanan (來自南安的明信片), both produced by the park agency, were awarded the honor in the documentary shorts category, beating more than 1,000 entries from around the world, it said.
Mountaineering to Yushan won similar honors at film festivals in the US, Spain and Portugal last year, it said.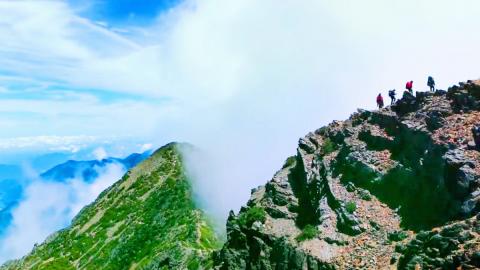 A still from the documentary "Mountaineering to Yushan" is pictured in an undated photograph.
Photo: Liu Pin-chuan, Taipei Times
People can view the two films at the Shuili Visitor Center in Nantou County, where a group reservation is required in advance, or the visitor centers in the Tataka Saddle, Meishan and Nanan areas of the park, where no reservation is required, headquarters Deputy Director Lin Wen-ho (林文和) said.
Mountaineering to Yushan is about learning about mountaineering from an Aboriginal mountain guide's perspective, and it aims to encourage people to reflect on the relationship between people and nature, and motivate them to protect Taiwan's beautiful landscape, Lin said.
Postcards from Nanan — a story about accidentally mailed postcards that connect a lonely city dweller to Nanan — features the area's beautiful scenery and the rich biodiversity along the Walami Hiking Trail (瓦拉米步道), Lin said.
Viewers would also gain an understanding of the unique customs and rituals of the Bunun and Seediq communities who live in the area, Lin said.
Comments will be moderated. Keep comments relevant to the article. Remarks containing abusive and obscene language, personal attacks of any kind or promotion will be removed and the user banned. Final decision will be at the discretion of the Taipei Times.