INTERVIEW: Taiwan should 'play for time,' Larry Diamond says
Hoover Institution senior fellow Larry Diamond discussed the DPP government's pursuit of transitional justice and its approach to cross-strait ties in an interview with 'Taipei Times' reporter Sean Lin in Taipei, arguing for a more arbitrational approach to party assets, while warning against action that might provoke China
Taipei Times (TT): In 2016, you were quoted as saying that the Democratic Progressive Party (DPP) government should not "punish a former administration," as that could aggravate political rivalry. How do you differentiate between pursuing transitional justice and punishing a former administration?
Larry Diamond: Transitional justice in democratic studies is not meant to apply to the transition from one democratically elected presidential administration to another. It is meant to apply to the transition from an authoritarian system of government to a democratic system of government.
There is [a lot of] literature on transitional justice in those circumstances, whose emphasis is on an agonizing effort, which can never be perfectly achieved, to reconcile two imperatives.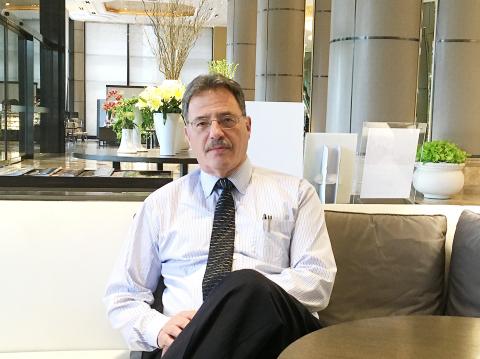 Hoover Institution senior fellow Larry Diamond is interviewed by the Taipei Times in Taipei on Aug. 19.
Photo: Sean Lin, Taipei Times
One is a moral imperative toward the "justice" part of transitional justice, which is to right historical wrongs, to acknowledge and document historical wrongs, and to punish severe abuses, particularly by individuals who committed human rights atrocities.
The second imperative is the "transitional" aspect: to ensure successful transitions into a successful democracy.
So the more the pursuit of transitional justice becomes a kind of politics of revenge, the more it can risk destabilizing democracy and propelling the political culture on a path of polarization.
You always need to balance these two imperatives to create an inclusive political community in which political parties that are associated with the old order and parties of the new order can compete in a mutually respectful way.
I think transitional justice — as it is surfacing now on the Taiwanese political agenda — refers to two issues: the law regarding the so-called "ill-gotten assets" of the Chinese Nationalist Party (KMT) and the prosecution of [former president] Ma Ying-jeou (馬英九).
I understand the desire for clean-leveling on the part of DPP activists and others, for eliminating all the financial assets and advantages of the KMT.
I would urge a slightly more accommodative process than what is now under way.
The KMT management got some initially lucrative assets for the party by virtue of their authoritarian command of the state and the economy, but over time, as the private sector grew them through effective business management, then what share of that wealth belongs to the KMT still and what share of it should belong to the Taiwanese society?
My strong preference as a political scientist would be to have this managed and proceed in a more arbitrational way, with some kind of mediation by a set of respected legal personalities that would try to broker a compromised settlement on the issue of the party assets.
I have said that the prosecution of Ma and the charges that have been leveled against him are, to my awareness of the situation, a very dangerous thing for democracy, because it appears that he is being prosecuted for a number of violations that merely involved technicalities and fairly arcane legal issues.
If you prosecute a former president on a legal technicality in a way that makes it look like the now-dominant party in the country and its most passionate supporters are seeking political revenge or seeking to create a moral, legal and political context in which they can use the prosecution and conviction of the most recent KMT president to bargain for the negation of the much more serious ... crimes by the previous DPP president, then it looks to outside observers like politics of revenge, or a heavy-handed and cynical manipulation of the judicial process for political purposes, even if the technical details could be portrayed or massaged in such a way as to make a case for technical violation of the law.
This looks really bad to outside democracy experts, who always have their antenna up in terms of the valuation of the quality of democracy when they see political misuse of the judicial process.
TT: Taiwanese Olympic medalist Chi Cheng (紀政) has initiated a referendum calling for the name "Taiwan" instead of "Chinese Taipei" to be used at the 2020 Tokyo Olympics. Meanwhile, an amendment to the Referendum Act last year, led by the DPP, forbids referendums calling for changes to the territory or title of the Republic of China. Could you discuss the dilemma facing the DPP?
Diamond: The political dilemma is obvious. They are stuck between a rock and a hard place; between an increasingly aggressive and bullying leadership of the People's Republic of China (PRC) and the "deep green" constituency, which wants to keep pressing toward Taiwanese independence.
The dilemma for Taiwan is if it keeps fiddling with state identity, it is courting disaster vis-a-vis China. The leadership there is increasingly hardline and increasingly authoritarian within the territory it controls. It is increasingly assertive, if not aggressive. Why provoke conflict with such a dangerous adversary across the Strait? It does not make sense to me.
I understand the quest for dignity and I think you do need to stand up to preserve the "status quo." So, when Beijing started bullying international airlines to try and remove "Taiwan" from a list of destinations, because the top of the list says "countries," you are totally within your rights and completely reasonable to ask companies and airlines to show some backbone, but when you take initiative to alter what has been a standard language and practice for a while now, Beijing sees it as one more confirmation that what the DPP really wants is state independence, formal independence, "Republic of Taiwan" independence.
At some point, Beijing may say: "We have had enough, they are never going to stop. We feel we are militarily strong enough, and the US is geopolitically preoccupied or hesitant enough, so it is time to act," and that would be a tragic moment for Taiwan.
There is no way you can come out of a military confrontation without being tragically damaged. Why bring that on? It is reckless and imprudent.
I think Taiwan today is in a more precarious and dangerous situation than any advocate of Taiwanese independence or greater assertion of Taiwanese identity realizes. It is not that I do not sympathize with them, and indeed I love Taiwan so much that I do not want to see it destroyed. I just do not think they are reading the geopolitical situation at all accurately.
TT: What is your take on the speculation that China's People's Liberation Army would invade Taiwan in 2049?
Diamond: I have heard the speculation, and that is what it is — speculation. If the relationship between Taiwan and China continues to sour, if [Chinese] Communist Party [CCP] leaders in Beijing perceive that Taiwan is gradually moving toward independence, I do not think they would wait 31 years to act.
If the relationship is stable and non-provocative, I think history will take its course in a different way.
I personally believe it is very unlikely that the Communist Party will be ruling China in 2049.
It was a dangerous and bold decision that Chinese President Xi Jinping (習近平) took to eliminate the two-term limit. Everything I have read from China experts suggests that there is great resistance to it.
The reversal of institutionalization — the move away from rule by individuals toward rule by established rules — and potential undermining of the circulation of elites in the CCP is a sign that the system is fraught with internal contradictions and could unravel at some point.
This is a major reason why I say to my friends in Taiwan: Do not rock the boat. Stop projecting more and more symbols of Taiwanese independence. Do not provoke China. Defend your dignity and sovereignty. Maintain and develop your military deterrent and strength.
Develop your economy, because a stronger economy will make Taiwan more secure. And just wait, because if you just wait, all the contradictions of Chinese communist rule are likely to accelerate.
The best prospects for Taiwanese security, and for working out a long-term resolution of the cross-strait conflict that the vast majority of Taiwanese can happily live with indefinitely is when communist rule ends in China and China makes its transition to democracy.
So, my advice is: Play for time.
Comments will be moderated. Keep comments relevant to the article. Remarks containing abusive and obscene language, personal attacks of any kind or promotion will be removed and the user banned. Final decision will be at the discretion of the Taipei Times.