Initial inventory of Chiang statues commission-ready
There are 500 statues of Chiang Kai-shek (蔣介石) at Taiwanese public institutions, statistics released by the Transitional Justice Commission showed.
There are also 210 public buildings and spaces — including schools, roads, parks, public squares and cultural centers — across the nation that are named after or dedicated to Chiang or his son Chiang Ching-kuo (蔣經國), the commission said.
The commission on July 19 requested local governments and central government agencies to inventory the statues of the two Chiangs under their jurisdictions, as well as the public buildings and spaces named after or dedicated to them, and report back within a month.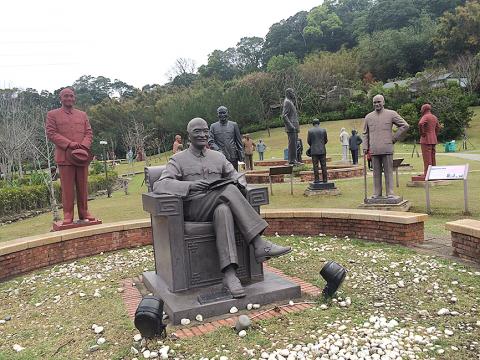 Chiang Kai-shek statues in Taoyuan's Cihu Memorial Sculpture Park are pictured on Feb. 28 last year.
Photo: Lee Jung-ping, Taipei Times
As of Monday, the commission had received responses from 21 central government agencies and 10 city or county governments.
Of the 500 Chiang Kai-shek statues, 277 are in the Cihu (慈湖) area of Taoyuan's Dasi District (大溪), the commission said.
There are also 25 posthumous portraits of Chiang Kai-shek, 11 posthumous portraits of Chiang Ching-kuo and 12 statues of Chiang Ching-kuo — two of which are in the Cihu area — it added.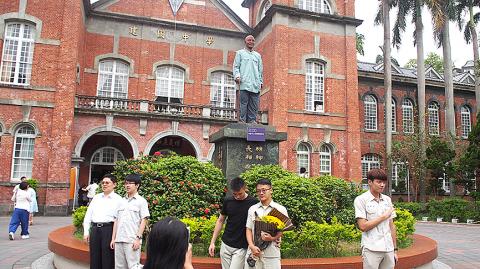 Students pose in front of a Chiang Kai-shek statue at Taipei Municipal Jianguo High School on their June 1 graduation day.
Photo: Tsai Ya-hua, Taipei Times
There is a statue of Chiang Kai-shek at the Jhunan Brewery (竹南啤酒廠), the Chiayi Distillery (嘉義酒廠) and the National Palace Museum (國立故宮博物院), the Ministry of Finance reported, adding that Taoyuan has the most statues of Chiang Kai-shek, while Penghu County has seven.
The Ministry of Education reportedly did not respond by Monday's deadline.
The commission had omitted several government agencies — the Presidential Office, Judicial Yuan, Examination Yuan and Control Yuan — from its original request, so it has requested that these agencies respond by tomorrow.
Consequently, the tally of authoritarian symbols across the nation is likely to rise above the number provided by the commission.
According to an unnamed source, the Chinese Nationalist Party (KMT) government, during the Martial Law era, ordered that statues of Chiang Kai-shek and Chiang Ching-kuo be erected.
However, the commission has said that, in accordance with Article 5 of the Act on Promoting Transitional Justice (促進轉型正義條例), symbols that honor or remember authoritarian rulers in public buildings or spaces should be removed, renamed or otherwise handled to establish the constitutional structure of a free democracy, deny the legitimacy of authoritarian rule and learn from the lessons of human rights violations in history.
A commission member who declined to be named said that the inventory's purpose is threefold: to pinpoint where authoritarian symbols are located; to highlight how images that glorify Chiang Kai-shek and Chiang Ching-kuo, who directed the White Terror era, have hindered free and democratic thought; and to explore how the ideology inspired by the symbols has seeped into Taiwanese homes and everyday life.
Apart from requesting deadline extensions, some agencies have called to ask whether the inventory should include public markets and parking lots named after Chiang Kai-shek, the commission member added.
Comments will be moderated. Keep comments relevant to the article. Remarks containing abusive and obscene language, personal attacks of any kind or promotion will be removed and the user banned. Final decision will be at the discretion of the Taipei Times.