Vietnam ex-envoy urges lower fees for migrant workers
COMMITMENT: Tran Duy Hai vowed to continue to support Taiwan-Vietnam relations after he hands the office's reins to experienced Taiwan hand Nguyen Anh Dung on Wednesday
Vietnam Economic and Cultural Office in Taipei representative Tran Duy Hai, whose term here ended yesterday, has made another plea to Taiwanese human-resource brokers to lower their fees, which he said have cause many Vietnamese workers to leave their employers illegally.
As of the end of last month, there were 51,404 migrant workers in Taiwan who were unaccounted for, with 24,248, or 47 percent, of them Vietnamese, Ministry of Labor statistics showed.
Tran on Friday said that the problem of "runaway" migrant workers is caused by the high fees that brokers charge.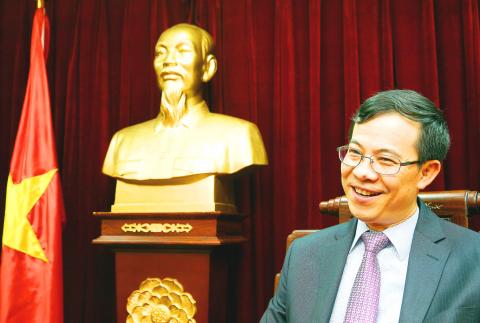 Outgoing Vietnam Economic and Cultural Office in Taipei representative Tran Duy Hai smiles during an interview in Taipei on Friday.
Photo: CNA
Tran said he has expressed his concern over the problem since taking up his post in Taiwan in March 2015, including in face-to-face meetings with brokers, whom he told that they were charging Vietnamese workers excessive fees.
Many workers have told him that they left their employers because they could not afford the fees, Tran said.
He has also received calls from migrants who complained that they were ill, but could not get help from brokers to get treatment, despite paying them monthly fees, Tran said.
However, his office does not encourage workers to run from their jobs, because it is dangerous and leaves them without any insurance, he said.
Asked what the Vietnamese government could do, Tran said that his government has asked Vietnamese brokers to follow the rules and vowed to fine them or revoke their licenses if they break the law.
Vietnamese officials have since 2016 also been in talks with the labor ministry on a direct-hiring system, which would reduce or eliminate brokerage fees, he said.
On other matters, Tran said that Taiwan and Vietnam have been working together on education, healthcare and agriculture since President Tsai Ing-wen (蔡英文) assumed office in May 2016.
One area he hopes that both sides could cooperate on more was transportation infrastructure, he said.
He said that Tsai late last year pledged that the government would establish a US$3.5 billion fund to help countries covered by the New Southbound Policy with infrastructure and major development projects.
"Vietnam would very much welcome that some of the funds could be used for its infrastructure construction," Tran told reporters.
Meanwhile, Tran has pledged to continue to promote Taiwanese-Vietnamese ties after his departure.
Tran said he has been deeply moved by the kindness and friendliness that Taiwanese have shown during the more than three years he has spent here.
One example he cited of Taiwanese hospitality was a drive that he took into mountains in Taichung.
He and his driver were struggling to find their destination, and his driver decided to get out of the car and ask a passing scooter rider for directions.
"Instead of just telling us which way to go, I was deeply moved when the rider offered to lead us to our destination," Tran said.
Because of his deep affection for Taiwan, he would continue to promote good relations between his country and Taiwan, no matter what his next post will be, he said.
Before leaving Taiwan, Tran said that he prepared a Vietnamese vase decorated with a lotus motif for Tsai as a parting gift.
The lotus is the national flower of Vietnam, Tran said, adding that the gift represents a wish for peace and stability.
Nguyen Anh Dung is to assume leadership of the Vietnamese representation on Wednesday next week.
Nguyen speaks fluent Mandarin, was posted at the office in the 1990s and is very familiar with Taiwan-Vietnam relations, Tran said.
Comments will be moderated. Keep comments relevant to the article. Remarks containing abusive and obscene language, personal attacks of any kind or promotion will be removed and the user banned. Final decision will be at the discretion of the Taipei Times.