Parties should stop playing on fear: Ko
Taiwanese dislike candidates using public fear and hatred as an election campaign strategy, Taipei Mayor Ko Wen-je (柯文哲) said yesterday, in response to remarks by the pan-blue and pan-green camps about cross-strait relations.
Taiwanese actress Vivian Sung (宋芸樺) on Thursday posted an apology on her Sina Weibo microblog, saying: "Taiwan is my hometown, China is my home country," after Chinese netizens labeled her as a Taiwanese independence advocate, after she said her favorite country was Taiwan in a 2015 interview.
Taiwanese and Chinese netizens have debated the issue, while political figures have also weighed in on it, making remarks about cross-strait relations.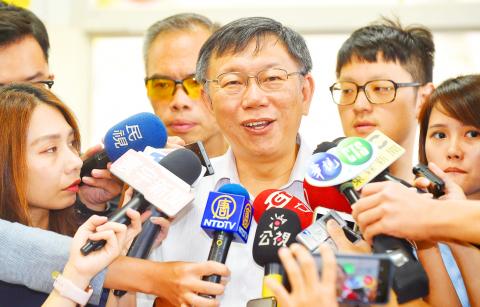 Taipei Mayor Ko Wen-je talks to reporters in Taipei yesterday.
Photo: Liu Hsin-de, Taipei Times
At a Democratic Progressive Party campaign event promoting the party's Taipei mayoral candidate Pasuya Yao (姚文智) and city councilor candidates on Friday evening, President Tsai Ing-wen (蔡英文) said China's suppression of Taiwan aims to crush Taiwanese's self-confidence, and Taiwanese should be free to say that "Taiwan is their favorite country."
Taiwanese independence advocates should not use recent incidents to cause trouble for Taiwan's athletes and performers, Chinese Nationalist Party (KMT) Taipei mayoral candidate Ting Shou-chung (丁守中) said on Facebook, adding that "friends on both sides of the Taiwan Strait should give young people more encouragement and support," because "are we not all a family?"
When asked about the issue, Ko yesterday said that cross-strait relations are becoming more tense, as both sides of the Strait are increasingly stressing their different ideologies.
The Sung incident is similar to that of Taiwanese K-pop idol Chou Tzu-yu (周子瑜) who in January 2016 was forced to apologize for waving a Republic of China flag, he said, adding that incidents like these only worsen the cross-strait relationship.
"My attitude [toward the issue] is to reduce tension and the risk of conflict," Ko said, adding that Taiwan should first focus on improving itself, including its national defense and economic capabilities, because polls suggest that many Taiwanese do not think they are leading a good life.
"The appeals of both the pan-blue and pan-green camps are not necessarily in the best interests of Taiwan," he said. "I personally feel that Taiwanese dislike the campaign strategy of manipulating people by playing on theirs fears and hatred."
Ko also restated his "five mutual principles" for cross-strait relations — mutual recognition, mutual understanding, mutual respect, mutual cooperation and mutual consideration.
Comments will be moderated. Keep comments relevant to the article. Remarks containing abusive and obscene language, personal attacks of any kind or promotion will be removed and the user banned. Final decision will be at the discretion of the Taipei Times.