Airline workers call for typhoon day legislation
GUARANTEED SAFETY: Demonstrators held placards that read: 'Safety is more important than profit' and 'Workers have the right to choose not to die for a job'
A coalition of airline and flight attendant unions yesterday protested outside of the Ministry of Labor in Taipei, calling for legislation to guarantee time off for airline workers on typhoon days to better protect their safety.
About 20 union members and labor rights advocates rallied in front of the ministry on Guanqiang Road, shouting: "We want typhoon day law." Protesters held placards that read: "Safety is more important than profit" and "Workers have the right to choose not to die for a job."
Although city and county governments can designate typhoon days when weather conditions reach hazardous levels, there is no law requiring companies to comply with the advisory and grant time off, Taoyuan Flight Attendants Union secretary-general Cheng Ya-ling (鄭雅菱) said.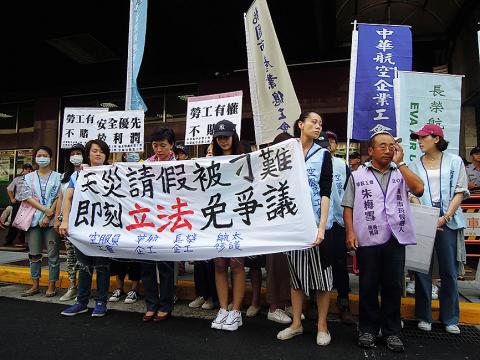 Members from a coalition of airline and flight attendant unions hold a protest outside of the Ministry of Labor in Taipei yesterday to demand that the government enact legislation that grants workers time off on designated typhoon days.
Photo: CNA
Under the Guidelines for Workers' Attendance Management and Wages (天然災害發生事業單位勞工出勤管理及工資給付要點), which took effect in 2009, employers are advised against treating time off on government-designated typhoon days as an absence without leave, requiring employees to do compensatory work or docking their bonuses.
However, no punishment is imposed if employers do not follow the guidelines.
"Workers' right to apply for time off on typhoon days are not being protected. Those guidelines are not even a law. Why would anyone obey them?" Cheng said, adding that most airlines disregard the guidelines, which are advisory in nature.
The only way to guarantee workers' time off on typhoon days is to pass a law protecting such rights, she said.
"Until that day, most workers will have to choose between ensuring their personal safety and avoiding being punished by an employer."
Last year, 500 EVA Air flight attendants applied for time off on a typhoon day when Typhoon Nesat hit the nation, EVA Air Union president Liao Yi-chin (廖以勤) said, adding that following the incident, the union negotiated with the company.
Since then, EVA Air has significantly improved procedures for rearranging rosters for rescheduled flights, no longer requiring workers to remain on standby for hours, she added.
However, the company has also tightened rules for applying for time off on typhoon days, she said.
"They still do not follow the government's advisory and give time off on typhoon days. To apply for time off on a typhoon day, flight attendants are required to provide proof that the typhoon made their commute impossible, such as providing photographs of fallen trees or billboards blocking the road," she said.
Those who take time off on a typhoon day also lose out on a performance bonus and are restricted from applying for certain flight schedules, she said.
The union has handled several injury cases involving employees who worked on typhoon days, she said, adding that airlines should prioritize employee safety.
Wang Ching-jung (王金蓉), a specialist in the ministry's Labor Conditions and Equal Employment Division, said that workers can file a complaint with the local labor department if they are punished for refusing to work under unsafe conditions.
The ministry plans to draft a typhoon day law, Wang said, but added that there are conflicting views in society about typhoon days.
Additional reporting by CNA
Comments will be moderated. Keep comments relevant to the article. Remarks containing abusive and obscene language, personal attacks of any kind or promotion will be removed and the user banned. Final decision will be at the discretion of the Taipei Times.