CTFA election unresolved; FIFA may intervene
Sports officials and leaders of a rival faction looking to unseat the leadership of Taiwan's soccer body have accused the Chinese Taipei Football Association (CTFA) of relying on technicalities and schemes to stall a mandated board election, which was supposed to be held in December last year.
"There is a strong suspicion that the CTFA is trying to mislead FIFA regarding the situation in Taiwan," Kaohsiung Football Association chairwoman Liu Shyh-fang (劉世芳) said at an extraordinary board meeting convened on Sunday with CTFA deputy chairman Kung Yuan-kao (龔元高).
Liu, a Democratic Progressive Party (DPP) legislator, quoted FIFA as saying in a letter: "From the information we have received, the extraordinary meeting held on July 14 did not seem to conform to CTFA regulations."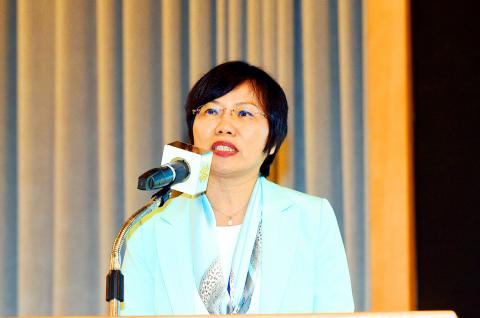 Democratic Progressive Party Legislator and Kaohsiung Football Association chairwoman Liu Shyh-fang speaks at an event in Kaohsiung on May 10.
Photo: Chang Chung-i, Taipei Times
However, Liu said that the CTFA must have sent FIFA false information about the July 14 meeting, leading FIFA officials to believe that CTFA members had only been given three days' notice of the meeting.
"That is not correct. We sent out the meeting notices on July 4, conforming to regulations," she added.
"Moreover, the follow-up extraordinary board meeting had a quorum, as 25 members were in attendance, so that meeting's resolutions were valid," Liu said.
Liu and other CTFA executives and soccer officials, including board member Liu Fu-tsai (劉福財), who acted as interim CTFA chairman in 2015, represent a group looking for change in the organization by backing the return of former chairman Chiou I-jen (邱義仁).
Chou, who served as CTFA chairman from December 2005 to January 2010, is currently president of the Taiwan-Japan Relations Association and has strong ties to Japanese sports circles. He is known for playing and actively supporting soccer and rugby.
Chiou's supporters are in contention with those who back the re-election of CTFA chairman Lin Yung-cheng (林湧成).
Like Chiou, Lin has a core group of CTFA executives and soccer officials supporting his re-election, bid, including Changhua County sports official Chang Chih-tung (張志東) and Hang Yuen soccer club head coach Chiu Yi-wen (邱奕文), among others.
Those backing Chiou have the edge, the Liberty Times (sister newspaper of the Taipei Times) reported yesterday.
"Chiou and his group are supported by a majority of 39 members who are eligible to vote in elections for chairperson and board members. Therefore, the odds seem to favor Chiou and his group in the upcoming internal CTFA election, which has tentatively been scheduled for Aug. 11," the newspaper said.
The newspaper quoted Lin as saying that he wanted to stay on as chairman, and that "Lin had relied on delay tactics and technicalities in the CTFA charter to stall the election for more than six months."
However, Lin's supporters have sent letters to FIFA, pointing out contentious issues in the election feud, the newspaper said, adding that the group had accused the CTFA of allowing the July 14 meeting to end in "double representation," with both sides claiming to be the legitimate leadership for domestic and international soccer in Taiwan.
Other media reports said that the CTFA row has already had an effect on the participation of Taiwanese men and women in soccer matches for next month's Asian Games in Jakarta, as CTFA officials have been dealing with the leadership feud instead of focusing on team preparation and logistics.
In a recent letter, FIFA said that if the election feud is not resolved, the international body could suspend or disband the CTFA and prohibit Taiwanese from competing internationally.
Comments will be moderated. Keep comments relevant to the article. Remarks containing abusive and obscene language, personal attacks of any kind or promotion will be removed and the user banned. Final decision will be at the discretion of the Taipei Times.