Park reforestation brings back species
ELEVATED STATUS: Cameras in the Hualien County park captured a yellow-throated marten, marking the lowest elevation at which the animal was spotted in the nation
Reforestation efforts in Hualien County's Danong Dafu Forest Park (大農大富平地森林園區) have resulted in the reappearance of several protected species, Hualien Forest District Office officials said on Monday.
Civets, crab-eating mongooses, ring-necked pheasants and other species have reappeared in the park's approximately 405 hectares over the past year, the officials said, adding that yellow-throated martens have been spotted for the first time.
The reappearance of the animals has been facilitated by a park policy that prioritizes the development of their natural habitats, and restricts commercial development and human effects on the forest, the officials said.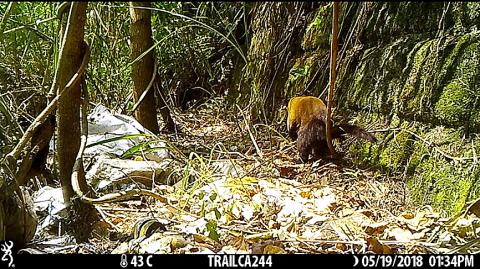 A yellow-throated marten is pictured at Danong Dafu Forest Park in Hualien County's Guangfu Township on May 19.
Photo courtesy of Hualien Forest District Office
Since the park was opened in 2011, the Taiwan Forestry Research Institute and National Dong Hwa University have cooperated to monitor animal activity, the officials said, adding that the population of black-winged kites, maroon orioles and other species have been increasing.
To better observe wildlife in the park, the office this year commissioned Observer Ecological Consultant Co to install 11 automated infrared cameras, which captured the first images of yellow-throated martens ever taken in the park, the officials said.
The martens are usually found in areas of medium elevation where human presence is minimal, they said, adding that the highest elevation at which the animals have been seen is on Yushan (Jade Mountain, 玉山) at 3,850m above sea level.
The lowest elevation at which the animals have been recorded is at 300m above sea level in Taitung County's Jhihben National Forest Recreational Area (知本國家森林遊樂區), they said.
The sighting at only 160m above sea level in Danong Dafu Forest Park is the first time the animal has been seen at such a low elevation in Taiwan, the officials said.
The yellow-throated marten is a subspecies endemic to Taiwan. The third-tier protected animal is carnivorous and about 60cm long, with a tail that is slightly shorter than its body. It has a yellow-brown body, bright yellow neck, black tail and white lower jaw. Its slender physique allows it to climb trees with agility, which it does to capture birds and rodents.
In the footage of the marten captured on May 19, the animal is seen walking along a stream under some bushes, but its movement is obstructed by flood-control barriers, which park officials said is an area that could be improved.
Comments will be moderated. Keep comments relevant to the article. Remarks containing abusive and obscene language, personal attacks of any kind or promotion will be removed and the user banned. Final decision will be at the discretion of the Taipei Times.