Former vice president Lien leaves for Xi meet in China
Former vice president Lien Chan (連戰) yesterday departed for a nine-day visit to China during which he is to meet with Chinese President Xi Jinping (習近平) at the head of a 50-member delegation.
Lien promised reporters at Taiwan Taoyuan International Airport that he would report on the details of the visit upon his return to Taiwan.
On the day of his arrival, Lien was slated to meet with China's Taiwan Affairs Office Minister Liu Jieyi (劉結一) for dinner yesterday evening.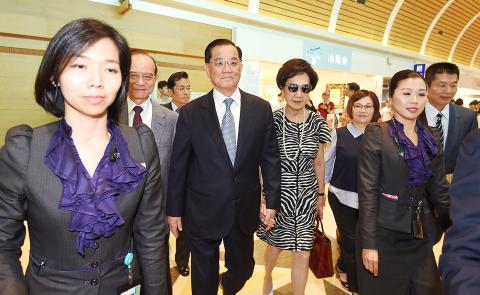 Former vice president Lien Chan, third from left, Lien's wife, fourth from left, and members of his delegation walk toward the boarding gate at Taiwan Taoyuan International Airport to depart for China yesterday.
Photo: Liu Hsin-de, Taipei Times
He is scheduled to meet with Xi in Beijing today, after which he is to deliver a speech at the Diaoyutai State Guesthouse, where a cross-strait peace foundation affiliated with Lien's office and a research center that studies cross-strait relations are to jointly hold a forum.
In the evening, Lien is to meet with Chinese Vice Premier Wang Yang (汪洋) at a dinner reception, Lien's office said in a news release.
Lien is also to travel to Shenyang, Jilin and Hangzhou before returning to Taiwan on Friday next week.
As it would be the fourth time that Lien meets with the Chinese leader, academics yesterday predicted that Xi would likely use his meeting with Lien to dampen cross-strait tensions as a signal to the US.
The objective would be to prevent US President Donald Trump from using the "Taiwan card" as leverage against China amid growing trade tensions between the world's two largest economies, Taiwan Thinktank researcher Tung Li-wen (董立文) said.
It remains to be seen what message Xi intends to send during the meeting, Tamkang University Institute of China Studies professor Chao Chun-shan (趙春山) said.
Although his rhetoric on Taiwan would likely still revolve around the so-called "1992 consensus" or Beijing's "one China" principle, it is highly possible that he will also try to send another message through Lien, Chao said.
Xi could call for the improvement of cross-strait ties and for boosting development between Taiwan and China, Chao said.
The "1992 consensus" refers to a tacit understanding between the Chinese Nationalist Party (KMT) and Beijing that both sides of the Taiwan Strait acknowledge there is "one China," with each side having its own interpretation of what "China" means.
However, Beijing has never acknowledged the "different interpretations" part and has only mentioned "one China" in its references to the "1992 consensus."
Lien hopes that his visit will help improve cross-strait relations and boost development in Taiwan and China for the safety, dignity and well-being of Taiwanese in the face of unstable relations, his office said.
Lien served as vice president from 1996 to 2000.
Comments will be moderated. Keep comments relevant to the article. Remarks containing abusive and obscene language, personal attacks of any kind or promotion will be removed and the user banned. Final decision will be at the discretion of the Taipei Times.