Speaker's guilty verdict for vote-buying upheld
STRIPPED OF OFFICE: An investigation found that Lee Chuan-chiao bribed seven city councilors to be elected speaker, and bought votes in the preceding election
The Taiwan High Court yesterday upheld a guilty verdict for former Tainan City Council speaker Lee Chuan-chiao (李全教) for charges of vote-buying, sentencing him to four years in prison and depriving him of his civil rights for five years.
Lee, a prominent Chinese Nationalist Party (KMT) figure in the city, was in December 2014 elected speaker following city councilor elections.
However, a judicial probe found that Lee bribed seven fellow councilors to get himself elected, at a price of NT$10 million (US$328,073 at the current exchange rate) per vote.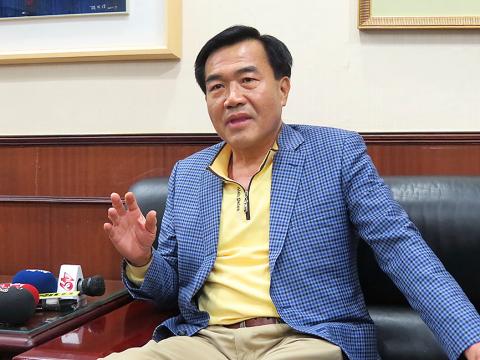 Former Tainan City Council speaker Lee Chuan-chiao talks to reporters in Tainan in an undated photograph.
Photo: Tsai Wen-chu, Taipei Times
The Tainan District Court in April 2016 found Lee guilty of vote-buying.
In a separate case, the High Court in August 2016 found Lee guilty of vote-buying in the 2014 city councilor election.
Following the convictions, Lee was stripped of his city councilor and speaker positions, and he filed appeals to be reinstated.
In a second ruling on the speaker election, Lee was in February last year given a reduced 42-month jail term. He appealed that ruling to the Supreme Court, which in December last year ordered the High Court to grant him a retrial leading to yesterday's decision, which can still be appealed.
Evidence and testimonies from witnesses confirmed the accusations of vote-buying, investigators said, and several councilors testified in court, admitting to discussing the bribes with Lee.
"The decision amounts to political persecution. There are people who want to derail my career to prevent me from taking up political office," Lee said after yesterday's ruling.
Comments will be moderated. Keep comments relevant to the article. Remarks containing abusive and obscene language, personal attacks of any kind or promotion will be removed and the user banned. Final decision will be at the discretion of the Taipei Times.