Union protests required work on typhoon days
DEPARTMENT STORES: More than 70% of sales clerks were forced to work during the last four major typhoons, while 78% during 2016's storms were not given bonuses
The Sales Worker Union yesterday morning protested outside the Zhongxiao branch of the Pacific Sogo Department Store in Taipei, demanding that department stores grant their employees time off during typhoons to ensure their safety.
About a dozen protesters shouted "people should not work on typhoon days" and handed out flyers to customers, urging them to boycott stores that force employees to work on such days.
Surveys conducted by the union found that during each of the four major typhoons over the past three years — Soudelor, Nepartek, Meranti and Malakas — more than 70 percent of department store sales clerks were forced to work, the union said in a statement.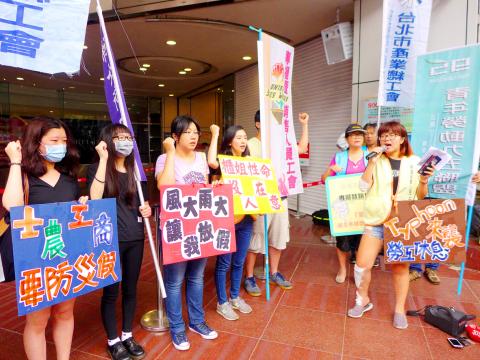 Members of the Sales Worker Union and allied labor groups protest outside a Pacific Sogo Department Store in Taipei yesterday.
Photo: Lee Ya-wen, Taipei Times
Forcing employees to work on typhoon days puts them in great danger and there have been many resultant cases of injuries and deaths, it said.
On Aug. 7, 2015, a Sogo sales clerk was seriously injured after being struck on the head by a tree branch when she was riding a scooter home after leaving work, the union said, adding that the accident happened on an official typhoon day.
Decisions regarding whether to work on typhoon days are entirely up to department stores' upper management; sales clerks have no say, the union said.
Many companies dock employees' pay if they fail to show up for work, even on a typhoon day, it said, adding that the lost amount can range from NT$2,000 to NT$10,000 per day.
In some cases, sales clerks lose their bonuses if they do not work on a typhoon day, and even when they do work, most do not receive any additional pay, allowances or bonuses, it said.
During typhoons Meranti and Malakas in 2016, 78 percent of department store clerks who worked said they were not paid more or given any allowances or bonuses, a union survey found.
A small number of department stores close during typhoons and some of them require clerks to take a paid day off, the union said.
To better protect the rights of workers, the Legislative Yuan should pass a draft act on workers' time off during natural disasters as soon as possible, it said.
The act should ban companies from docking employees' pay or day off for not working on a typhoon day, as well as require them to pay employees double for working on such days, it said.
The Ministry of Labor said in a statement that there are different opinions on whether such a law should be made and that the proposal must to be carefully assessed.
Under the Guidelines for Workers' Attendance Management and Wages (天然災害發生事業單位勞工出勤管理及工資給付要點), workers can choose not to work on official typhoon days and employers are banned from treating it as absence without leave, requiring employees to do compensatory work, deducting their bonuses or carrying out any other form of punishment, the ministry said.
Employers are also advised to not dock employees' pay if the latter choose not to work on a typhoon day and to offer additional pay when they decide to work, it added.
The guidelines, which took effect in 2009, are of an advisory nature and do not impose any punishment on employers who contravene them.
Comments will be moderated. Keep comments relevant to the article. Remarks containing abusive and obscene language, personal attacks of any kind or promotion will be removed and the user banned. Final decision will be at the discretion of the Taipei Times.